Problems With Maytag Front Load Washers
Similar to front-loading commercial washing machines, Maytag front load washers use a tumbling method of cleaning your clothes instead of a center agitator. The washers are smaller than traditional top-loading washers, and they use less water and energy.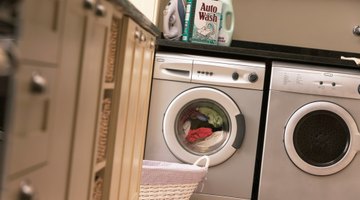 Maytag front load washers also include a built-in computer that manages the appliance's operation, but the washers are not problem free.
Mold and Mildew Development
One problem with Maytag front load washers is the development of mold and mildew due to water splashing against the washer's front door and sticking to the door's gasket and the machine's inner gasket. Also, water molecules remain on the appliance's gaskets and seals after a wash cycle is complete and help in the development of mold and mildew.
Door Latch Issues
Another problem with Maytag front load washers is a faulty door latch that contributes to the development of mold and mildew within the washers. The door doesn't close properly and allows air to enter the appliance, which helps mold and mildew to grow. The faulty door latch also leads to water escaping the appliance while it is in use.
Odors
With the development of mold and mildew, a strong odor is also present in Maytag front load washers. The odor is due to the mold, mildew and stale water molecules present on the gaskets. The odor affects any clothing washed in the machine, as well as any clothing left in the washer.
Standing Water
Standing water is a problem with Maytag front load washers that can also cause the appliance to develop an odor. The standing water is in the bottom of the appliance due to the washer not draining water properly. The standing water contains dirt and detergent residue and eventually starts to smell.
Gasket and Seal Failure
Gasket and seal failure is another problem that Maytag front load washers develop over time that can lead to water exiting the appliance's front door and rusting out the exterior of your washer. The water leakage can also damage the flooring under the washer.
References
Resources
Writer Bio
Nick Davis is a freelance writer specializing in technical, travel and entertainment articles. He holds a bachelor's degree in journalism from the University of Memphis and an associate degree in computer information systems from the State Technical Institute at Memphis. His work has appeared in "Elite Memphis" and "The Daily Helmsman" in Memphis, Tenn. He is currently living in Albuquerque, N.M.
Photo Credits
Andrew Olney/Photodisc/Getty Images
Andrew Olney/Photodisc/Getty Images
More Articles