Error Code F51 on a Maytag Bravo
The "F51" error on Maytag Bravo washers can stop the washer from operating, is often a nuisance and may require new parts to fix the problem. The error also applies to other washer manufacturers.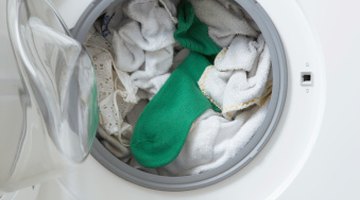 Identification
After the washer stops, the "F51" error flashes on the LCD screen, and the washer beeps multiple times. Press the "Stop" button to stop the washer from beeping.
Effects
When the error occurs, it means that the rotor position sensor has a connection error. This connection error causes miscommunication between the sensor and the electronic control.
Prevention/Solution
Open your washer and remove the sensor to clean any rust or buildup on it. This is a multistep, difficult process. If you do not have experience working on a washer, contact a local repair person or Maytag customer service.
Types
The same error can occur on Whirlpool, Kenmore and Oasis washers. On other models, the rotor position sensor may be referred to as the motor position sensor.
References
Writer Bio
Alan Donahue started writing professionally in 2003. He has been published in the Norwich Free Academy "Red & White," UNLV's "Rebel Yell" and on various websites. He is an expert on wrestling, movies and television. He placed second in the NFO Screenwriting Contest and received filmmaking awards from Manchester Community College and Norwich Free Academy. He currently attends Academy of Art University.
Photo Credits
Martin Poole/Lifesize/Getty Images
Martin Poole/Lifesize/Getty Images
More Articles