What Size Are King-Size Pillowcases?
A king-sized pillow requires a king-size pillowcase. No matter how hard you try to stuff the pillow into a case of the wrong size, you'll be left with plenty of naked pillow sticking out one end of the case.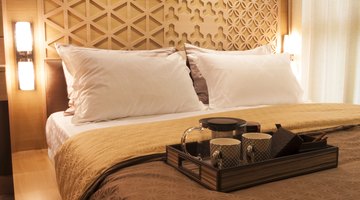 The size of the actual pillowcase varies from one manufacturer and style to another, but it must be larger than 20 inches wide and 36 inches long, which are the dimensions of a king-size pillow.
Sizing Specifics
A king-size pillowcase typically has at least 1 inch of allowance for width and several for length so the pillow fits in without wrestling it in place. Since actual pillowcase dimensions vary, take the pillow into consideration. For example, if the pillow is gusseted, overstuffed or thicker than usual -- as may be the case with a memory-foam pillow -- a 20-inch-wide pillowcase may be difficult to fit over the pillow. Opt for a case at least 1 or 2 inches wider than the pillow itself to fit a lofty pillow; the wider the pillowcase, the more spare room around the pillow once it is in the case. Some pillowcases allow for 4 or more inches of extra material beyond the length of the king-size pillow, which helps keep the pillow completely covered at all times.
References
Resources
Writer Bio
Kathy Adams is an award-winning writer. She is an avid DIYer that is equally at home repurposing random objects into new, useful creations as she is at supporting community gardening efforts and writing about healthy alternatives to household chemicals. She's written numerous DIY articles for paint and decor companies, as well as for Black + Decker, Hunker, Landlordology, SFGate and others.
Photo Credits
kettaphoto/iStock/Getty Images
kettaphoto/iStock/Getty Images
More Articles