How to Cut Vinyl
Vinyl is made by blending chlorine with hydrocarbon-based materials such as coal or petroleum. Because chlorine consists of salt and water, vinyl works naturally as a flame retardant, making it perfect for use with wiring or electrical products.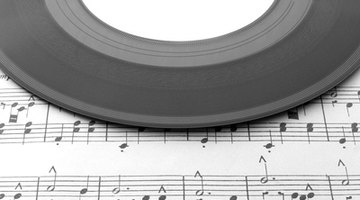 You can find flexible or rigid vinyl, attractive enough for a house yet sturdy enough for the exterior as siding. Different techniques help you cut different forms of vinyl.
Cut a vinyl record for craft projects such as simple jewelry or decorative dishes by first putting the record on an unwanted cookie sheet. Open all windows since the fumes from heated vinyl are hazardous. Heat the oven to 185 degrees. Place the cookie sheet in the oven for about three minutes. While wearing a thick oven mitt, check if the record is softened. If not, keep heating and check again in another 2 minutes. Check consistently until the record is soft enough to bend easily. Remove from oven. Discard the cookie sheet; once heated with vinyl it can not be used with food again. Keep your oven mitts on and use craft scissors to cut the record into the desired shapes while it is still hot. Once it cools, it will be too hard to cut.

Cut vinyl tile with a razor knife or utility knife, but make sure the blade is very sharp. Move to a well-ventilated area as vinyl fumes can be toxic. Put on leather gloves to avoid getting burned. Run a heat gun over the back of the tile for about one minute to make cutting the tile easier. For a large area, use a vinyl tile cutter, which you can rent at a major hardware store. Lift the cutter so that blade is raised above the cutting surface. Slide your tile under the blade exactly where you want cut. Push down the handle to cut. Make sure to cut at a place in the pattern that obscures your cut line, such as a mock grout line. If you need two pieces cut precisely the same, tape the tiles together before cutting them.

Use safety glasses when cutting vinyl siding. Make larger cuts in vinyl siding with a bench or radial-arm power saw. Use a fine-tooth plywood blade (12 to 16 teeth per inch). Unlike cutting wood, cut vinyl siding with the blade installed in the reverse direction. The backwards blade cuts more smoothly. Take your time moving the saw through the vinyl siding so you don't chip or crack it. For smaller cuts, use tin snips or a utility knife. To ensure a clean cut, don't completely close the blades of the tin snips when you cut the siding. When using a utility knife, press firmly to score the face of the siding. Snap in half to complete the cut.
Things You Will Need
Cookie sheet
Oven mitts
Craft scissors
Utility knife
Leather gloves
Heat gun
Vinyl cutter
Tape
Safety glasses
Bench saw
Tin snips
Check out this related video.