How to Make a Gas Fireplace Look Real
Gas fireplaces are extremely popular. With the flick of a switch, they can be turned on and off. They are convenient, quiet, and there is no mess to clean up. The downside is that some gas fireplaces look obviously fake.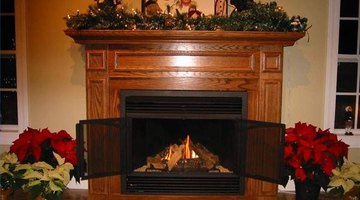 Below are some steps you can take if you would like your gas fireplace to look more like a real, wood burning fireplace.
Things You Will Need
Set of fireplace tools (poker, brush, tong, shovel)
Newspapers
Matches
Mantel
Solid hand-painted ceramic logs
Fireplace screen
Warning
Keep matches or lighters out of the reach of children.
Invest in a set of solid, hand-painted ceramic logs. Most gas fireplaces come with a standard, inexpensive set of hollow, ceramic fiber logs. Upgrade to a more expensive but utterly realistic set and you will immediately notice how much more real your fireplace looks.

Purchase a set of fireplace tools that would be used with a wood-burning fireplace. Place them beside the gas fireplace.

Place a stack of folded newspapers in a basket next to the tools, and set a box of matches or a lighter on the mantel, so that it looks like you might be starting a fire at any moment. You might even pile some kindling on top of the newspaper.

Add a wooden mantel to your gas fireplace. Most gas fireplaces do not come with mantels. Adding a mantel is a great way to make your fireplace look more realistic.

Place a fireplace screen in front of the opening. These are traditionally used to keep sparks from flying into the room. Obviously, you will not have sparks with a gas fireplace, but the screen will make it look like your fireplace is wood burning.