How to Make Borax Milk Paint
Borax milk paint is an eco-friendly paint that can be made with a few ingredients around the house. It has been used to paint for centuries and will last for years without wearing or fading. This recipe makes a quarter quart of paint.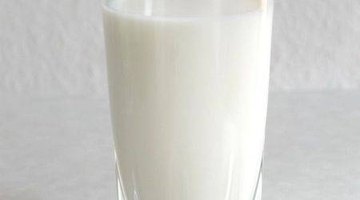 This is roughly enough to cover an area of 30 square feet with between two and three coats of paint.
Combine a half quart of skim milk with 1 tablespoon of white vinegar in a small saucepan. Place it on the stove and warm it on low heat for five minutes. Never allow the milk to boil. This will cause it to curdle and render it useless.

Remove from heat and drain away the yellow-colored whey on top of the milk. Be careful not to lose any milk. Place a universal coffee filter on a glass jar and pour the remainder of milk into it. Allow it to strain overnight. Check the jar in the morning for 3 ounces of curd.

Add 1 teaspoon of borax to 1 tablespoon of water. Combine the borax water with the curd and mix well. This should create a creamy, smooth consistency. If still thick, add 1 teaspoon of water. The borax works as an antibacterial, killing any microbes, and also makes the curd more water soluble, allowing it to become the proper texture.

Combine 5 1/2 ounces of chalk powder with 1 cup of water and mix. Add this to the curd mixture and mix once again. The white borax milk paint is now ready to be used.

Add color to the borax milk paint by mixing small amounts of artist oil paints into the mixture. The color can be adjusted by adding the proper amounts. Start by adding a very small amount and mixing, and then adding more from there to achieve the desired color and hue.
Things You Will Need
Skim milk
White vinegar
Saucepan
Universal coffee filter
Borax
Chalk powder
Oil paint
Tip
Borax can be purchased in retail stores near laundry detergent and cleaning supplies. Chalk powder is available for purchase at home improvement stores and is usually located with cement supplies.
Warning
Never ingest borax milk paint, as harmful side effects can occur. Keep out of reach of children and do not inhale. Never allow borax milk paint to come in contact with the eyes.
Writer Bio
Willow Sidhe is a freelance writer living in the beautiful Hot Springs, AR. She is a certified aromatherapist with a background in herbalism. She has extensive experience gardening, with a specialty in indoor plants and herbs. Sidhe's work has been published on numerous Web sites, including Gardenguides.com.
Photo Credits
Wikimedia Commons
Wikimedia Commons
More Articles