How to Install Rugs & Padding
Table of Contents
A rug installation can be quickly and easily improved by the simple addition of padding. Padding can help with adherence, add a bouncier feel and extend a rug's life. Installing a rug with padding can be done fairly easily at home with just a few simple tips and tricks.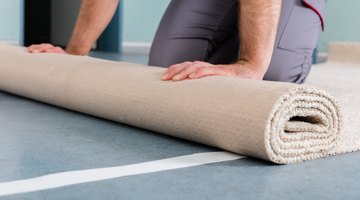 A new area rug will not only add color and warmth to a room, but it's also a great solution to a cold and hard concrete or wooden floor and will help muffle sounds and echoes. To keep an area rug from bunching or sliding out of place, you'll first want to install padding. Padding works to help with adherence during rug installation and gives you a softer space to walk or even sit on. Pads are also great for rug or carpet installation because they'll help extend the lifespan of the rug.
What's Rug Padding?
Padding is a thin but bouncy layer that goes under carpets and rugs. While rug pads can be bought in specific sizes, you can also cut and trim them yourself to get a custom fit. Pads tend to be made of different types of foam, but they can also be made from fibers such as felt or wool and different types of rubber.
Different Types Of Rug Pads
There are three general types of rug pads – ones that are designed to be non-slip, ones that are designed to add a cushioned layer and ones that are designed to do both. To get the right rug or carpet pad for you, you need to know what you want it for.
Non-slip rug or carpet pads tend to contain some element of synthetic or natural rubber. They can be woven to help give the bottom of the rug some texture for added friction. Rug pads that are designed to add cushioning tend to be thicker and made of felt, although you can find specialty memory foam options that offer even more comfort. You can also find rug pads with extra features; for example, a water-resistant pad will help protect your flooring from spills.
You may be tempted to use carpet padding for wall-to-wall carpets as a rug pad. While this will work better than no pad at all, it isn't the same as using a rug pad. Rug pads are designed for use under area rugs specifically.
There are types of rug pads that are unsuitable for certain floors. For example, a rug pad containing PVC can cause discoloration on a vinyl floor. Check with your floor's manufacturer if you're unsure about certain rug pads.
How to Choose Rug Pad Size
You may be choosing an area rug pad with a particular rug in mind or you may be buying both a rug and pad at the same time. If you're choosing a new rug, make sure you measure it to the size of the room.
Once you know your rug size, you can decide on the size of the padding. The rug pad needs to be at least one inch smaller than your rug on all sides. If it's any bigger, your rug won't lay flat on the floor and may present a tripping hazard. Rug pads can be cut down to size if necessary.
Pad and Rug Installation for Different Floor Types
Padding helps with nonslip rugs for steps or other areas where adherence is key. Padding only really works to add friction on hard floors, such as concrete or wood. This friction is what keeps the rug in place while giving it a bouncier, more plush feeling underfoot.
Before installing padding or rugs, you'll need your floor surface to be totally clean and dry. You should unroll the padding first and then unroll the rug on top of it, ensuring that the padding is centered underneath the rug.
Carpet Pads for Steps
You can glue the padding down to the floor or to the rug, but this isn't really necessary unless you're installing carpet pads for steps. Steps are already a little treacherous, and adding a rug that could potentially slip out of place may cause accidents or injuries. Using an epoxy adhesive for steps or entryways is therefore recommended.
References
Writer Bio
Annie Walton Doyle is a freelance writer based in Manchester, UK. Her work has appeared in The Huffington Post, The Daily Telegraph, Professional Photography Magazine, Bustle, Ravishly and more. When not writing, she enjoys pubs, knitting, nature and mysteries.
More Articles