DIY: Rollup Projector Screen
A custom roll-up projection screen can suspend from a wall or ceiling. A heavy fabric will stop too much projected light from passing through and diminishing the image. Accurately measuring and cutting the fabric to the width of the roller shade will help the screen hang evenly.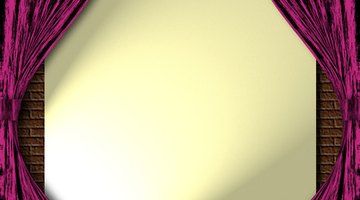 Fabric proportions can measure approximately 4:3 or 16:9 to correspond with the projected proportions. A roller shade or roller shade kit allows the screen to extend to different lengths for viewing, or retract when not in use.
Preparing the Fabric
Wash and iron the fabric.

Cut fabric to desired dimensions.

Finish the two side edges of the fabric by folding raw edges under and pressing.

Machine sew with a straight stitch running close to the folded edge. Press the two finished edges.
Assembling
Glue one side of each of the two wood lattice strips.

Position the bottom edge of the fabric between the two glued lattice strips. Use bulldog clips to hold the fabric and strips together. Allow glue to dry.

Drive a brad through the strips and fabric at three-inch or four-inch intervals.

Attach the pull cord to the center of one lattice strip.

Staple the top edge of the fabric to the roller shade.
Shade Brackets
Fasten shade brackets to the wall.

Suspend completed projection screen.

Keep screen rolled up to stay clean when not in use.
Things You Will Need
Roller shade
Ticking, or other heavy cotton fabric
2 wood lattices strips, ¼-inch thick, ½ inch narrower than the roller
Glue
½-inch brads
Pull cord and tack
1 set roller shade brackets
Stapler
Bulldog clips
Tip
Test the wall to ensure the screws for the shade brackets can attach to the wall studs.
References
Photo Credits
27082008 image by Andrey Efimov from Fotolia.com
27082008 image by Andrey Efimov from Fotolia.com
More Articles