How to Steam Clean a Microfiber Couch Without Leaving Water Stains
Microfiber couches are touted as being able to repel dirt, soil and stains. The fabric is made of nylon, polyester and rayon. Sure, your couch may not get as dirty and grimy as other furniture in your home, but you will still need to steam clean it. Microfiber attracts pet hair and skin oils.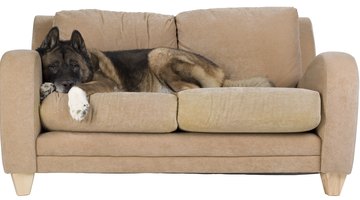 Use a steam cleaner to make it look as good as new -- and do so without leaving water stains.
Things You Will Need
Vacuum
Lint roller
Steam cleaner with upholstery attachment
Cleaner
Lint-free towel
Vacuum the couch to remove debris and dirt from the surface. Remove the couch cushions and clean all sides as well as the nooks and crannies.

Run a lint roller over the microfiber to remove pet hair. The hair should lift off the couch easily when it's dry. Once you wet it with the steam cleaner, the hair is harder to remove.

Fill the chamber of the steam cleaner with water. Pour the recommended cleaner into the designated spout, following the manufacturer's directions.

Run the upholstery attachment over a hidden part of the couch once the steam cleaner has warmed up. Spot testing looks for a reaction between the chemical and the microfiber. As you test for colorfastness, look for fading and deterioration of the material.

Slide the upholstery tool over the front, sides and back of the couch cushions if the couch passed the spot test. Overlap each stroke so that all parts of the couch are cleaned. The cleaner will release from the steam cleaner each time you bring the brush back.

Press the button and pull the tool backwards over the areas that are the most soiled. This will release more chemical cleaner on those spots (i.e. armrests). Do not over-saturate the couch, or you may cause water stains. Push the tool over the area several times to complete dry passes that suck up the moisture.

Smooth the nap of the microfiber with a lint-free towel. Brush the towel over the cushions to eliminate the marks from the upholstery attachment.
References
Writer Bio
Based in New York State, Kelly Shetsky started writing in 1999. She is a broadcast journalist-turned Director of Marketing and Public Relations and has experience researching, writing, producing and reporting. She writes for several websites, specializing in gardening, medical, health and fitness, entertainment and travel. Shetsky has a Bachelor of Arts in communications from Marist College.
Photo Credits
Photos.com/PhotoObjects.net/Getty Images
Photos.com/PhotoObjects.net/Getty Images
More Articles