How to Dry Clean Upholstery
Upholstery can sometimes be cleaned with a water-based product, however, always read the label. If your upholstery calls for dry cleaning only, you may think you have to call in a professional carpet and upholstery cleaner.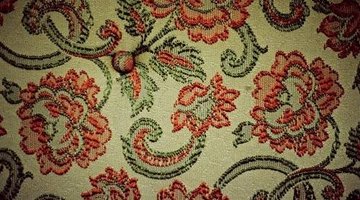 While that would be the safest option, you can usually dry clean your own upholstery with the right techniques and proper precautions.
Test all cleaning products in an inconspicuous spot. Products may leave a stain, damage the upholstery or change the fabric color, so take precaution.

Vacuum your upholstery. Be sure all pet hair, crumbs, dust and dirt are removed before attempting to clean your upholstery.

Rub Dryel dry cleaning cloths over the surface of your upholstery. When one gets dirty, use another.

Use a foaming upholstery cleaner, such as Woolite. You can also use foaming upholstery cleaner designed for cars. Always follow the manufacturer's directions. General directions call for spraying the cleaner on upholstery and leaving to sit several minutes. Rub off the foam with a a clean cloth and let the upholstery air-dry.

Vacuum away the dirt that is loosened.
Things You Will Need
Vacuum cleaner
Dryel cloths
Foaming upholstery cleaner
Warning
Call in the professionals for upholstery made from silk and other fragile fabrics.
Writer Bio
Melissa Lewis is a former elementary classroom teacher and media specialist. She has also written for various online publications. Lewis holds a Bachelor of Arts in psychology from the University of Maryland Baltimore County.
Photo Credits
www.everystockphoto.com/photo.php?imageId=1055986
www.everystockphoto.com/photo.php?imageId=1055986
More Articles