How to Paint Fiberglass Pool Slides
Fiberglass pool slides share similar construction methods with other fiberglass objects, such as boats. Fiberglass cloth is laid up in a mold and saturated with catalyzed polyester resin, which hardens and forms a stiff, resilient unit.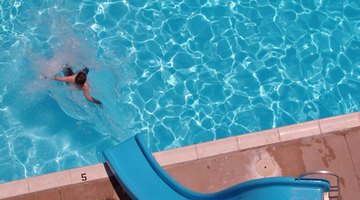 Color and protection from wear and water intrusion are provided by a layer of gel coat on the surface. Gel coat bonds with the fiberglass resin and forms a tough shell that is resistant to the effects of wear and is superior to any type of household or marine paint. The gel-coat surface also makes the slide slippery, which promotes the function of the slide.
Things You Will Need
Masking or painter's tape
Pre-tinted gel coat
Acetone
Clean plastic container
MEK catalyst
Paint stir sticks
600 grit wet/dry sandpaper
Surfacing agent
Polishing compound (optional)
Electric buffer (optional)
Tip
Working time on properly catalyzed gel coat is 10 to 15 minutes at 70 degrees Fahrenheit. Higher air temperatures and direct sunlight can drastically reduce this working time. To minimize waste, do not mix more gel coat than you can use comfortably within 10 minutes.
Mask off all metal fittings or other parts of the slide that are not to be painted. Use low-tack painters tape or masking tape and ensure that the edges are secure to prevent wet gel coat from bleeding under the tape.

Thin 1/2 gallon of pre-tinted gel coat with acetone in a clean plastic container to help it flow and leave a smooth finish. Add the methyl ethyl ketone (MEK) catalyst and mix well with a clean paint stir stick according to the manufacturer's instructions, or at 2 to 4 fluid ounces per gallon, as a rule of thumb.

Roll or brush the catalyzed gel coat onto the areas of the slide that are to be painted. Apply the gel coat in a thin, even coat and avoid causing runs or sags that will add labor to the sanding process. Mix more gel coat as needed and coat the entire surface of the slide.

Allow the gel coat to harden. Sand out any heavy brush marks or roller stipple with 600 grit wet/dry sandpaper and water.

Allow the water to evaporate and repeat Steps 3 and 4 until the desired coverage and thickness are achieved. Add surfacing agent to the last coat, according to the manufacturer's instructions, to cause the gel coat to harden tack free.

Allow the gel coat to harden. Carefully remove the masking tape. Clean all tools with acetone. Polish the slide with polishing compound and an electric buffer, if a high-gloss finish is desired.
References
Resources
Photo Credits
More Articles