What Dishes Are Comparable to Corelle?
Setting your table shouldn't be a job for a heavyweight. If you're looking for lightweight dinnerware like Corelle but want something different for any number of reasons, you're in luck. Tempered glass dinnerware is on-trend and found everywhere, from Home Depot to Wayfair and beyond.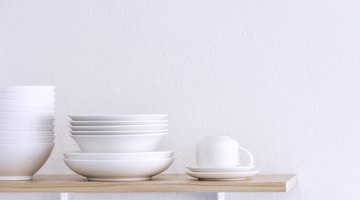 For a half-century, Corelle dishes have been popular with consumers, and it's not hard to see why thanks to their colorful designs and engaging patterns. But some customers complain that things have changed over the last decade or two and they're looking for other aesthetically pleasing alternatives. After all, anyone who's ever shattered Corelle plates on a clumsy day in the kitchen can attest that it's a nightmare to clean up all the shards. For break-resistant dinnerware, though, there are some other options.
What's the Corelle Appeal?
Colors seem more vivid in Corelle's designs, for starters, and that's partly due to the tempered glass used — their patented Vitrelle material. Even single-colored dishes can be bright and crisp-looking. Their name and history mean their products aren't cheap, but they do come with a three-year manufacturer warranty against chips and breakage, although you must keep the damaged product for your return. The tempered glass is also nontoxic, lead-free and doesn't impart flavor to your food — qualities echoed by other tempered glass lines as well.
IKEA Oftast vs. Corelle
When people are looking for alternatives to Corelle, IKEA Oftast is frequently mentioned — it's a plain white line of tempered glass dishes that are a staple of IKEA's dinnerware line and plates will sell for under a dollar apiece new (versus several times that for Corelle). They're popular, affordable and easy to replace.
But IKEA now has other tempered glass dishes too, like the stark black line of square-with-round-corner dinnerware line called Backig, which is only sold as separate dishes, not as a set. There's also the new Besegra line featuring light blue or pale green dishes. IKEA cautions shoppers that a scratched surface means the dish shouldn't be used again as it can break suddenly. (Let that be a warning to all those who like to handwash dishes while wearing their glass-scratching diamond rings!)
Break-Resistant Dinnerware
Corelle was once unique in their line of Livingware-look tempered glass dishes, but the low cost of production means there has been a proliferation of similar products on the market – like IKEA's. But while white and solid-color dishes are popular, one of the attractive aspects of tempered glass dinnerware is their ability to have vibrant, brilliant colors that are unlike anything else you'll find on dishes.
One brand that's really made their mark for having stunning designs and being lightweight dishes that are not Corelle is Luminarc. The made-in-France line of dishes offers patterns like "Silene," a vibrant turquoise, red, yellow and white design that conjures the floral art of the Art Deco era and gives a whole new inspiration for "cleaning your plate" at dinner. Brands like Libbey and Duralex make nontoxic tempered glass dinnerware but often just in clear glass.
But there are a lot of companies selling private-labeled tempered glass dishes now. A great place to find a variety of them is on sites such as Wayfair where brands like Red Barrel Studio offer a variety of colors and styles for the modern table. The thing with tempered glass dishes is that they're sturdy, yes, but even the slightest flaw — like IKEA's scratch warning above — can cause the entire dish to shatter into hundreds of razor-sharp shards. For truly break-resistant dinnerware, melamine and stoneware are a good bet, but they're also not as nontoxic as tempered glass products can be.
Make a Statement
Still, tempered glass dishes are popular with designers and brands because of their color and vibrancy that don't compare with any other product. If you're apprehensive about getting a whole set of tempered glass dishes right off the bat, why not invest in a few decorative platters or serving bowls? They'll be a conversation starter on the table, but they'll also give you a sense of what the product is like day to day.
References
Writer Bio
Steffani Cameron is a nomad, writer, photographer, from Vancouver, Canada, who is slow-travelling the world for five years. Her work has appeared in Washington Post, Vox Media, Kitchn, About, and more.
More Articles