How to Remove Gum Off of Vinyl
When gum gets stuck to a surface, you're left with a mess that is difficult to clean up. The gum is sticky, spreads quickly and leaves behind residue even after you've removed the gum. When you have a solid surface like vinyl, luckily this is a sealed and non-porous surface so the cleanup procedure requires less work.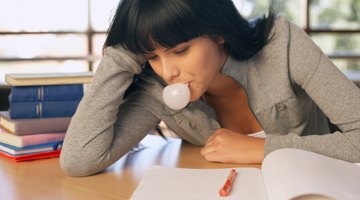 Things You Will Need
Ice cubes
Butter knife
Cleaning rag
Water
Dish soap
Instead of working with the sticky gum in its natural texture, harden the gum so it removes more easily.
Rub an ice cube over the vinyl surface until the gum is solid to the touch. The ice quickly hardens the texture of the gum.

Scrape the gum off of the vinyl gently with a butter knife. Try to scrape parallel to the vinyl surface, as you do not want to cut downward into the vinyl as this can cause indentations.

Continue this process until all gum is removed. Rub the ice over the gum as needed to keep the texture hard.

Rinse a cleaning rag under warm water when all gum is removed.

Add a drop of dish soap to one corner of the cloth and wipe across the vinyl surface. Switch to another damp area of the cloth and wipe across the vinyl to remove any dish soap residue.
Writer Bio
Mel Frank is a professional freelance writer with over 15 years of writing experience. She has completed a wide variety of writing assignments for a number of publications that include CNN and various websites. Frank received a Bachelor of Fine Arts from a prestigious university in Pennsylvania.
Photo Credits
Jupiterimages/Comstock/Getty Images
Jupiterimages/Comstock/Getty Images
More Articles