How do I Remove Papermate Ink From Clothes?
Some stains are harder to treat than others, but ink stains are particularly difficult, and if you are in the habit of keeping a pen in one of your pockets, you will know what it feels like to have clothes ruined by leaking pens. An ink stain does not have to mean the demise of a favorite garment, however.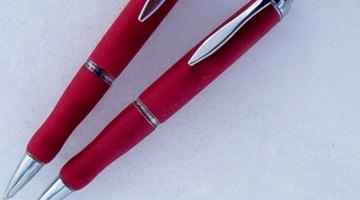 With a little bit of patience and time, you can get rid of that stain completely.
Apply detergent to the stain and wash the garment on the usual wash cycle, also using heavy-duty detergent in the dispenser. If the ink is water-soluble, this should remove the stain easily. Otherwise, continue to the next step. If the stain has not been removed, do not tumble dry at this stage as this could set the stain and make it much harder to remove.

Soak a cotton wool ball with rubbing alcohol and gently dab at the stain. Vodka, gin or any other clear spirit can be used, but as the alcohol content is only around 40 percent, they tend to be less effective. Continue dabbing, changing the cotton wool ball frequently until the stain has gone.

Apply nail-polish remover to a cotton wool ball if the stain persists and treat in the same way as with alcohol. You need to take particular care when using nail-polish remover as this will damage certain synthetic fibers, such as acetate, and will fade the color in others. If you are unsure, test on an inconspicuous part of the garment first.

Launder your garment as normal in order to get rid of chemicals and prevent damage to the garment.
Things You Will Need
Heavy-duty liquid detergent
Washing machine
Rubbing alcohol
Nail-polish remover
Cotton wool balls
Check out this related video from Homesteady on Youtube.
References
Writer Bio
Ben Barker began his writing career in 2000, producing copy for Web sites including BT Insight Interactive, Oyster Marine and The Tub Company. He also writes fiction, scripts and plays. Barker studies English literature at The Open University.
Photo Credits
pen image by Rog999 from Fotolia.com
pen image by Rog999 from Fotolia.com
More Articles