How to Build Hard Covers for a Trailer
Flatbed and open-top utility trailers are a good option for hauling large, bulky items when you don't have to access to a box truck. Some cargo requires more protection. In these cases, hard covers can be made from plywood and dimensional lumber to shield your cargo from the elements.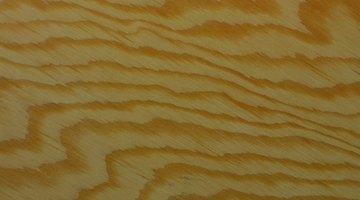 Since most trailers are fairly long, it is easiest to build your covers in sections that can be easily lifted on and off so that the trailer can continue to be used open when the covers are not in place.
Things You Will Need
Tape measure
2-by-4 lumber
Circular saw
3/4-inch-thick plywood
Treated deck screws
Eyehook latches
Ratcheting straps
Parts
Measure the length and width of the trailer. Divide the length by 4 feet. You will build one cover section for every 4 feet of length, and one to cover any remainder.

Cut two-by-four lumber for your frame, using a circular saw. Cut two pieces the width of the trailer bed (from inside to inside of the rails, if the trailer has them) for each section of cover that you intend to build. Cut four pieces at 28 1/2 inches each to serve as legs, and four pieces at 45 inches for bracing.

Position the two width pieces parallel to each other on edge, with two of the 45-inch pieces between them, one at each end. Drive 3-inch screws through the width pieces into the ends of the 45-inch pieces, two in each end of each piece, to form a rectangle frame.

Measure the frame and cut a piece of 3/4-inch thick plywood to fit it; make one for each full cover section you intend to build. Cut two end pieces for each cover section 48-by-32 inches from 3/4-inch thick plywood.
Assembly
Lay the 28 1/2-inch pieces out in pairs, parallel to each other. Fit one 45-inch piece between each pair at one end and screw them together as you did the top. Fit one of the 48-by-32-inch plywood pieces to each of these three-sided frames. Attach the plywood with 1 5/8-inch treated deck screws every 8 inches.

Fit one plywood panel to the top of each long top frame and attach with 1 5/8-inch treated deck screws, one every 8 inches. Attach one leg section, made up of a three-sided two-by-four frame and plywood cover to each end of each top frame, with the plywood to the outside. Drive screws through the open plywood tab at the top of the leg section into the two-by-four end of the top panel. This will create large, three-sided "table" like sections.

Follow the two previous steps to assemble one cover section for each 4 feet of trailer length. Make one similar section, cut to width to fit at the back end of the trailer, covering any area that remains, less than 4 feet wide.

Cut a piece of plywood to fit one side of one open frame to go at the front of the trailer. Screw it to the two-by-four edge of the top, and the edges of the two leg sections attached to it. Do the same for the narrow cover section for the rear of the trailer.

Stand the cover sections on the bed of the trailer, side by side to cover the entire bed. Add eyehook latches between the sections to hold them together, two on each end and two on top. Use wratcheting straps over the covers to hold them firmly down to the trailer bed.
References
"The Trailer Manual: the Complete Guide to Buying Maintaining and Building Light Trailers"; Brian Bate; 2006
Writer Bio
Mark Morris started writing professionally in 1995. He has published a novel and stage plays with SEEDS studio. Morris specializes in many topics and has 15 years of professional carpentry experience. He is a voice, acting and film teacher. He also teaches stage craft and lectures on playwriting for Oklahoma Christian University.
Photo Credits
Photos.com/Photos.com/Getty Images
Photos.com/Photos.com/Getty Images
More Articles