How to Make Fingerprint Powder
Because every person's fingerprints are different, they have become a useful tool in criminal investigations. Many forensic detectives and crime scene investigators use aluminum powders to dust and lift fingerprints. Most people do not have the necessary chemicals to re-create professional fingerprint powder, so here is a way to make your own using simple ingredients.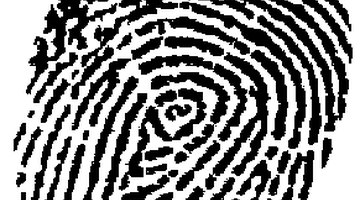 Measure 1/4 cup of starch powder, and place it on a paper plate.

Use a lit candle, match or cigarette lighter to heat a porcelain dish. Be sure not to use your good dishes, and be careful not to burn yourself!

Notice the black film appearing on the dish. Scrape it off with a butter knife or razor blade, and place it in a second paper plate.

Keep doing this until the amount of soot is equal to the amount of starch powder (1/4 cup). You can check the measurement by carefully folding the paper plate with the soot and transferring its contents into a measuring cup.

Once you have equal amounts of soot and starch powder, thoroughly mix the two together. You may want to store it in an empty pill bottle so as to minimize messes.

Use a clean, dry paintbrush to brush the powder generously over the fingerprint. Blow away the excess powder. Do not dust it away or the print may be smudged. Use clear tape to lift the print.

Things You Will Need

2 paper plates
1 porcelain plate
1/4 cup starch powder
Lit candle (or matches/lighter)
Empty pill bottle
Writer Bio
This article was written by a professional writer, copy edited and fact checked through a multi-point auditing system, in efforts to ensure our readers only receive the best information. To submit your questions or ideas, or to simply learn more, see our about us page: link below.
More Articles