How to Whiten a Cotton, Nylon & Spandex Blouse
White clothes are hard to keep white. They act as magnets for spaghetti sauce or naturally yellow over time. If you have a cotton, nylon and spandex-blend blouse that is looking a bit dingy, avoid chlorine bleach if you can. It can cause the fabric to become discolored or even deteriorate the fibers.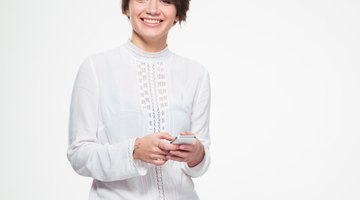 Use other common household products to whiten the blouse.
Put the blouse inside the washing machine. Set the washing machine to the "cold" water temperature.

Add the recommended amount of laundry detergent and 1 cup of hydrogen peroxide. In a front-loading washer, put the peroxide in the bleach dispenser. Run the blouse through a complete wash cycle.

Remove the blouse from the washer. If it is still not white, wash it again but instead of hydrogen peroxide, add ½ cup of white vinegar to the washer. Run the blouse through a complete wash cycle, then hang to dry or tumble dry on low.

Things You Will Need

Laundry detergent
1 cup hydrogen peroxide
½ cup white vinegar

Tip

Soak your cotton/nylon/spandex blend blouse in a solution of oxygen bleach or other non-chlorine bleach to whiten the fabric. Refer to the label on the bleach for specific instructions.
References
Writer Bio
Kimbry Parker has been writing since 1998 and has published content on various websites. Parker has experience writing on a variety of topics such as health, parenting, home improvement and decorating. She is a graduate of Purdue University with a Bachelor of Arts in organizational communication.
Photo Credits
DeanDrobot/iStock/Getty Images
DeanDrobot/iStock/Getty Images
More Articles