How to Make a Cotton Hoodie Last Longer
Cotton hoodies are sweatshirts with hoods. Sometimes they zip up; sometimes they pull on. Either way, they're one of the most comfortable, cozy articles of clothing you can wear in cold weather. Some hoodies allow you to express your individual style with logos, appliques or screen prints.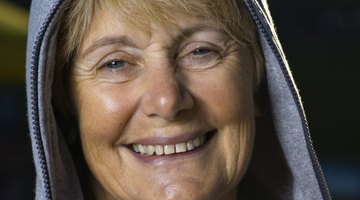 Cotton is a low-maintenance fiber; it doesn't take much care to keep it looking great. However, washing and drying your cotton hoodie properly can add years to its life.
Wear your hoodie as many times as possible before washing it. Hang it up after each wearing so it doesn't end up getting dirty on the floor. Since you'll probably wear a shirt underneath your hoodie, it won't need washing as frequently as clothes that come into direct contact with your skin.

Wash your hoodie in cold water on the gentle cycle with a color-preserving laundry detergent. If you'll be washing the hoodie with other articles of clothing, put it in a lingerie bag to protect it from additional wear caused by friction with the other clothing.

Turn your hoodie inside-out before washing, especially if it has a screen print or applique on the front. If the hoodie zips, zip it first.

Hang your hoodie to dry instead of tossing it in the dryer. Not only does this help it last longer, it can also prevent shrinking.

Store your hoodie in a cool, dry, dark place during warm weather. Wash and air-dry it before storing. Use a garment bag for extra protection.

Warning

Don't use a detergent that contains bleach. Don't add bleach to the load when washing your hoodie.
References
Writer Bio
S.R. Becker is a certified yoga teacher based in Queens, N.Y. She has a Master of Fine Arts in creative writing and has worked as a writer and editor for more than 15 years. Becker often writes for "Yoga in Astoria," a newsletter about studios throughout New York City.
Photo Credits
Jupiterimages/BananaStock/Getty Images
More Articles