Retractable Clothesline
To make the process easier and quicker, special lines were constructed. Today, many homeowners still use clotheslines to dry laundry during the summer months or year-round, to save energy. You can also use clotheslines indoors for drying at any time of the year. The amount of space you have and your needs will determine which type of clothesline is best for you.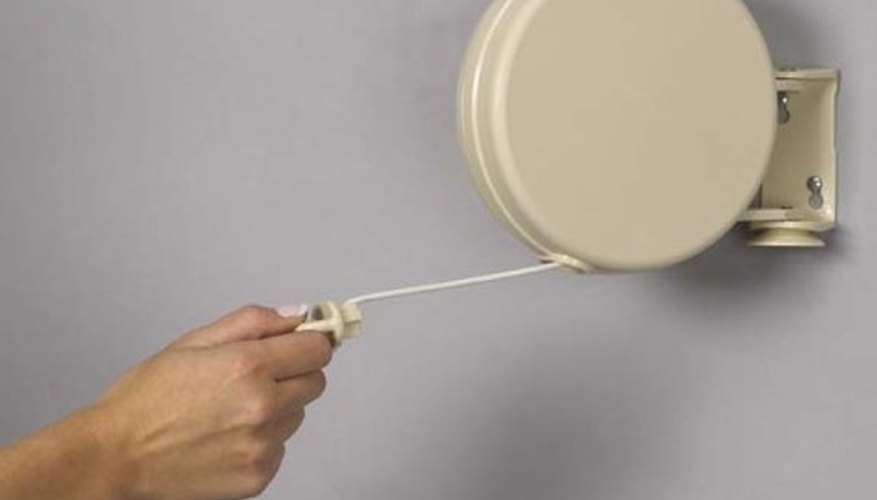 Retractable clotheslines are popular with those who only hang their clothes out to dry occasionally. Retractable models can be pulled out when needed and stored out of sight when not in use. Common models include the single line, which can be mounted indoors or outdoors and have line up to 20 feet and the five-line model for larger loads. Retractable clotheslines are popular with college students and those who live in apartments because they take up little space.
T-Post Clotheslines
T-post clotheslines are the most common type of line used. T post clotheslines are characterized by a large, usually metal post, in the shape of a T, which stands at each end of the line. The line is fixed to the post sides and sometimes a third line runs from the center of one post to another. T-post clotheslines must be secured into the ground using concrete and are not removable. T-post lines are used by those who frequently put their laundry out to dry and who don't mind having a large part of their yard taken up by the line.
Umbrella Clothesline
Umbrella clotheslines are a common type of space-saving line. When not in use, the device folds down, much like a patio umbrella, taking up little space. When needed, you open the umbrella to reveal several arms. Between the arms are lines where you hang the laundry. Umbrella clotheslines come in smaller, portable versions that are perfect for dorm rooms. Larger sized umbrella clotheslines are fixed into the ground using a special stake. There are also some models that spin when they are hit by a breeze.
Drying Racks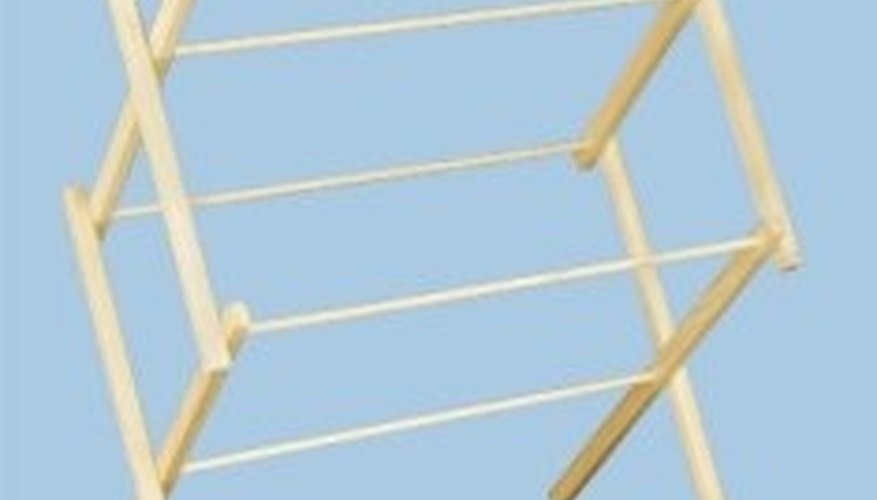 If you don't have room for an umbrella clothesline or a T-post clothesline and don't want to drill holes in the wall to affix a retractable line, another option for drying clothes outdoors is a small portable drying rack. Racks of this type fold away for easy storage and can be set up in seconds. Drying racks are typically made out of wood with wood dowels running across the middle in different locations. Due to their design, drying racks can't hold heavy loads, but they are perfect for drying sweaters or small items.
Types of Line
Depending on personal preference, there are several line options for a traditional T-post clothesline. Nylon rope can be used to make a line, however it needs to be replaced frequently because it can stretch of become frayed after frequent use. Cold weather can also cause the rope to become brittle, so it's important to test the strength of the rope the first time you use it. Some prefer metal cable over rope because it is sturdier and doesn't sag under the weight of wet clothes. The danger of using metal cable is that it can rust over time and stain laundry. The best option for an outdoor clothesline is a metal cable with a PVC or vinyl covering. This type of line is sturdy and will protect clothing from rust.