How to Bleach Lace Curtains White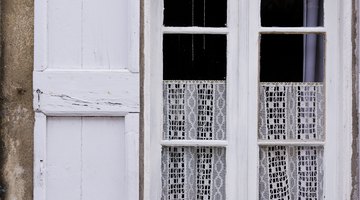 Lace curtains add a touch of Victorian charm to your space. Perfect for shabby chic decor, lace curtains come in both polyester and cotton versions. Both can become yellowed over time, especially if you leave them hanging in a smoky or dusty room or if they've been in storage for many years. While cotton lace is somewhat delicate, especially if it's vintage, polyester lace curtains are more durable. Whiten either fabric with powdered oxygen bleach.
Step 1
Fill a large sink or basin with lukewarm water. While the water is running, add one scoop of powdered oxygen bleach and 1 tablespoon of liquid laundry detergent.
Step 2
Add the lace curtains to the water, put on a pair of rubber gloves and swish the curtains gently. Work the suds through by grasping handfuls of the fabric and squeezing gently.
Step 3
Allow the curtains to soak overnight.
Step 4
Drain the water the next morning and rinse the curtains with cool running water. If they aren't white enough, mix more water, detergent and oxygen bleach and allow them to soak overnight again.
Step 5
Hang the curtains outdoors in bright sunlight to dry. If possible, clip them to a clothesline with clothespins and let them hang all day. Even after the curtains are dry, the sun will continue to whiten them. If you don't have a clothesline, move a drying rack outdoors and drape the curtains over it.
Things You Will Need
Powdered oxygen bleach
Laundry detergent
Clothespins (optional)
Drying rack (optional)
References
Writer Bio
S.R. Becker is a certified yoga teacher based in Queens, N.Y. She has a Master of Fine Arts in creative writing and has worked as a writer and editor for more than 15 years. Becker often writes for "Yoga in Astoria," a newsletter about studios throughout New York City.
Photo Credits
Jupiterimages/Photos.com/Getty Images
Jupiterimages/Photos.com/Getty Images
More Articles