How to Remove Smoke Smell From Curtains
Cloth curtains can absorb smells, especially if exposed to the smells over a long period of time. If you smoke inside your home, it is likely that your curtains have absorbed a smoke smell. You can remove this by repeatedly laundering your item with odor-removing compounds such as vinegar or baking soda. Vinegar will neutralize the smell, and will replace the smoke smell with a sharp vinegar smell. Vinegar fragrance, however, will dissipate faster than smoke smells will.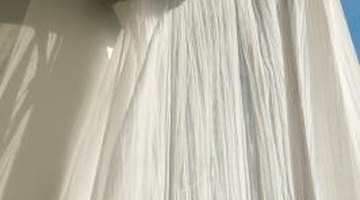 Mix 3 cups water with 3 cups distilled white vinegar in a large bowl. Put the curtains in the bowl and submerge them completely. The vinegar will help neutralize the smell. You may need to use more water and vinegar if your curtains are thick and absorbent.

Leave the curtains to soak for at least 20 minutes.

Remove the curtains and wring out as much of the vinegar solution as possible.

Wash and dry the curtains according to the curtain manufacturer's instructions. Curtain manufacturers will stipulate the temperature of the water you should use and how you should dry the curtains.

Lay the curtains out flat and sprinkle baking soda over them. Completely coat the curtains.

Let the baking soda sit for several hours or overnight.

Sweep off the baking soda and discard it. The baking soda will have absorbed any remnants of smoke or vinegar smell.

Shake the curtains outside to remove any remnants of baking soda. Launder them again if you prefer.
Writer Bio
Kaye Wagner has been working in the fields of journalism and public relations since 2006 and is a recipient of a National Hearst Award. She is particularly interested in home-and-garden projects, as well as beauty and fashion writing. An avid traveler, she also writes travel reviews and guides. Wagner earned a Bachelor of Arts in journalism from Brigham Young University.
Photo Credits
Jupiterimages/Photos.com/Getty Images
More Articles