How to Create Marble Effects With Paint on Concrete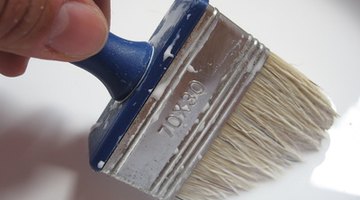 Many elegant and famous buildings throughout the world are decorated with marble floors, including museums, banks, the White House and Buckingham Palace. Bring this same look into your home without spending a great deal of money by painting your concrete floor with a special faux painting technique called marbleizing. Marbleizing is a process that creates the look of marble; use whatever colors you desire to create the swirls and veins of a piece of marble.
Step 1
Scrape any areas of the floor that show signs of flaking. Sand the entire floor with 180-grit sandpaper to create small grooves in the existing paint. These small grooves provide an area for new paint to adhere.
Step 2
Sweep the area to remove all sanding dust and debris. Mop the floor with soap and water to remove any remaining debris. Use a degreaser on areas with oily stains. Allow the floor to dry completely before continuing.
Step 3
Tape along the very bottom edge of the wall or trim that is directly next to the floor with painter's tape. This step will prevent excess paint from getting on the walls while painting the edge of the concrete.
Step 4
Paint around the outside edge of the concrete floor with white latex concrete floor paint and a 3-inch brush. Paint the remainder of the floor with a roller. Allow the paint to dry at least six hours before continuing. Paint the floor a second time to create a thick base. Allow the paint to dry 24 hours before continuing.
Step 5
Grid the floor into simulated marble tile. Measure the width and length of the room. Divide the measurement with a common denominator to determine square size. Tape the squares with 1/4-inch low-tack tape to create a faux grout line between each tile.
Step 6
Mix equal amounts of white acrylic paint, water and acrylic glazing medium in two containers. Start with 1 cup of each and make more as needed. Add 1/2 teaspoon of black and raw umber paint to one container. Mix well to create a light gray paint. Add more black and raw umber to create the desired color. Keep track of how much you add so you can create the same color if more is needed.
Step 7
Locate the square the farthest from the door. Begin painting in this square. Glaze the entire faux square with white glaze. Apply the glaze quickly in different directions with a 3-inch paintbrush. Immediately dip a 2-inch paintbrush in the light gray glaze. Brush irregular, random stripes of gray across the surface of the square. Turn the brush on edge to create narrow stripes. Dab the edges of the light gray stripes with a lint-free cloth to soften the edges. Move to the next square and repeat the process. Allow all tiles to dry six hours before continuing.
Step 8
Make a dark gray paint with 1/2 cup white, 1/2 teaspoon black and 1/4 teaspoon raw umber paint. Mix well. Thin the mixture with 1/4 cup light gray glaze.
Step 9
Paint veins on each tile with the dark gray mixture using a #3 thin sign painting brush. Apply the paint in shaky diagonal lines to create the veins. Make the majority of the lines going in the same direction. Add a few in the opposite direction to create a more realistic-looking marble. Allow the glaze to dry six hours, then remove all tape.
Step 10
Allow the glaze to dry 24 hours before placing any furniture on the floor.
Tip
The color combination for your faux marble floor is unlimited. Whatever combination you chose, the marbleizing must be in drastic contrast with the floor coloring for it to be seen. For example, paint the floor black, then use a black glaze first and a white or light gray to create the veining effects.
Things You Will Need
Paint scraper
180-grit sandpaper
Sanding block
Broom
Soap
Bucket
Mop
Degreaser
Painter's tape
White latex concrete floor paint
3-inch paintbrush
Paint roller pan
Paint roller
Paint roller handle
Tape measure
Yardstick
Pencil
1/4-inch low-tack tape
2 mixing containers
Acrylic glaze medium
White acrylic paint
Raw umber acrylic paint
Black acrylic paint
Measuring cups
Measuring spoons
2-inch paintbrush
Lint-free rag
Palette
#3 thin sign-painting brush
References
Writer Bio
Kim Blakesley is a home remodeling business owner, former art/business teacher and school principal. She began her writing and photography career in 2008. Blakesley's education, fine arts, remodeling, green living, and arts and crafts articles have appeared on numerous websites, including DeWalt Tools, as well as in "Farm Journal" and "Pro Farmer."
Photo Credits
brush in paint image by Vladislav Gajic from Fotolia.com
brush in paint image by Vladislav Gajic from Fotolia.com
More Articles