Is Carpet Cleaning Toxic?
Carpet cleaners contain chemicals that can be toxic to humans and pets. Proper use of the cleaners lessens exposure to the toxic fumes, and taking some precautions reduces the risk of problems.
Types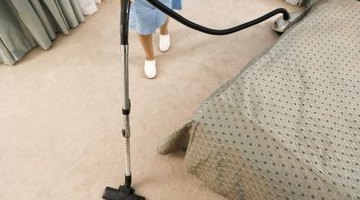 Carpet cleaners come in a wide range of options, including professional steam cleaning, rentable steam cleaning machines and spot cleaners for stains on the carpet. Janitorial Products Pollution Prevention Project points out that spot cleaners and industrial-strength maintenance cleaners used in machines use fairly harsh chemicals.
Chemicals
Carpet cleaners contain chemicals that pose a severe health risk, including hydrofluoric acid, perchloroethylene and nitrilotriacetate. The Janitorial Products Pollution Prevention Project recommends using with extreme caution products that contain butane, isobutane, propane, quaternary ammonium chloride and ethanolamines or to avoid using the products. Carpet cleaners containing dibutyl phthalate, HCFC-141, nonylphenol ethoxylate and octylphenol ethoxylate pose a potential risk to the environment.
Prevention
When working with carpet cleaning products that contain harsh chemicals, provide as much ventilation to the room as possible. Open all windows in the room and take frequent breaks, giving your body a chance to get fresh air.
Do not mix any products when cleaning the carpet, as this may cause toxic fumes.
Wear protective gear when handling carpet cleaning chemicals, including rubber gloves and goggles.
Writer Bio
Jennifer Eblin has been a full-time freelance writer since 2006. Her work has appeared on several websites, including Tool Box Tales and Zonder. Eblin received a master's degree in historic preservation from the Savannah College of Art and Design.
Photo Credits
Jupiterimages/Goodshoot/Getty Images
More Articles