Pull Quote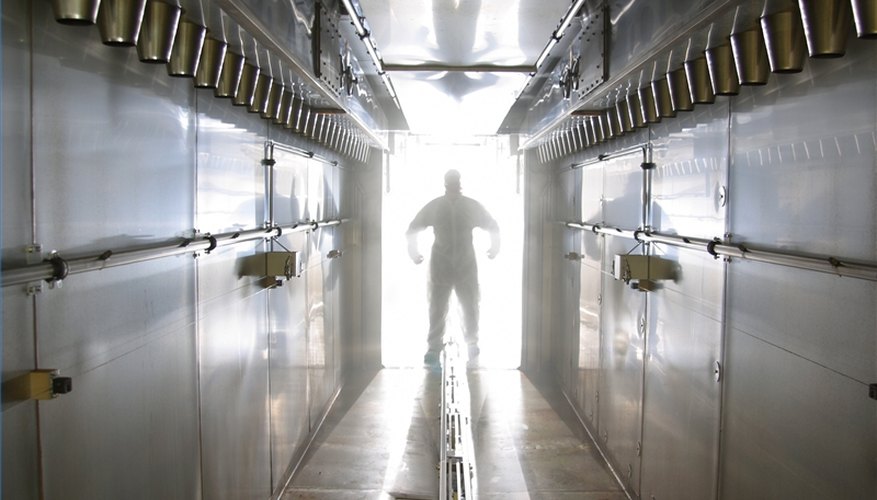 And where once kitchens were hidden in the back of houses, out of view of visitors, in contemporary homes they're usually showpieces -- which explains the increasing interest in commercial products for private homes. Eight-burner ranges, double ovens and stackable dishwashers are practically expected in newly constructed homes these days. But there's another element some passionate home cooks are looking for in new kitchens; it's a little more complicated, a lot more expensive, and very hard to find. It's the walk-in refrigerator, and some people are (literally) carving out space for one in their homes.
[Quote] | Before actually purchasing a refrigeration unit, assess what your house can physically handle.
[Attribution] |
[Intro] |
[Body] | The most important thing a homeowner has to know when looking into commercial refrigeration is that it is very difficult to find a company willing to help with your kitchen project. It's not impossible, but you're going to have to cobble together different subcontractors for each element.
Frank Casares of Surfas, a kitchen and restaurant supply company in Culver City, California, says that he's happy to sell a walk-in refrigerator for a residential kitchen, but unlike other sales, he won't install it. "They're too big, and if we're bringing a walk-in in through, say, a hallway, walls will get chipped, art will get bumped. It's too much of a liability."
And that liability is often what turns people off from commercial kitchen products right from the start. Noah Ryskind of Star Restaurant Equipment in Van Nuys, California, explained the problem like this: "Commercial manufacturers won't extend warranties to private home use, so that right there dissuades a lot of people. And since the manufacturers don't offer warranties, any problems would fall to the seller to fix, so most sellers -- like us -- shy away from selling walk-ins to private homes, anyway." Still, if you're determined to get commercial products in your kitchen, it can be done.
Before actually purchasing a refrigeration unit, assess what your house can physically handle. A huge refrigerator could cause a wood floor underneath it to sag, so you might need to reinforce the flooring in your kitchen. A more common problem is one of electricity. Make sure your outlets have enough voltage to handle a huge appliance (the manuals tell you what they require); buying a smaller piece can eradicate both of those problems. But as kitchen designers will tell you, your electric bills will go up, and the noise of a bigger-than-average refrigeration unit could keep you up at night.
[Intro] |
[Body] | Don Silvers, a former professional chef, now designs kitchens in Los Angeles. He described his work as "commercial kitchens on a residential scale," so he's not averse to the idea of installing walk-ins in home kitchens. But only if the house is big enough to support such an element.
He's worked on some pretty enormous houses, such as the famous 123-room abode of Aaron and Candy Spelling. There, he was only too happy to install as many walk-ins as Candy requested; her kitchen, including the flower coolers and side rooms, was about 4,000 square feet.
For smaller homes (which is just about every other home in existence), slightly smaller, but still commercial-grade, refrigeration is recommended.
Fridges built for private homes are generally 24 inches deep. Silvers puts 32-inch-deep refrigerators in kitchens, but not without extending the cabinets and counters out as well, to keep a sense of proper proportion. While wall cabinets are usually 12 inches deep, he'll custom order 17-inch cabinets, to avoid having the refrigerator stick out and look overly industrial and hulking.
The countertops will have to be extended as well when installing bigger refrigerators. Silvers is seeing an increased interest in tower-style fridges --- one tall refrigerator without a freezer, but usually accompanied by a freezer equivalent. Because they're also deeper, all the dimensions in the kitchen must be adjusted to fit. Undercounter refrigerators were once seen only in commercial kitchens, but families that do a lot of on-the-fly meal preparation are beginning to see the value of them in homes. Again, they're deep, so the counters they reside under must be, too.
[Intro] |
[Body] | Also remember that a bigger fridge means bigger electric bills. The pros and cons must be weighed when deciding on a fridge: Is the continued higher cost worth the ease of access and plentiful storage? Silvers' rule of thumb is to count how many people fit in your dining room; if it's four people, stick to a regular refrigerator that consumes a regular amount of energy. If you have space for 12 or more, have a large family, or regularly cook elaborate meals, perhaps a commercial product is appropriate.
If you're still sold on a walk-in, be prepared to be a lone wolf of kitchen design. With no warranties, all liabilities will be your responsibility. But it's an excellent conversation starter.
[Intro] |
[Body] |
[Intro] |
[Body] |
[Intro] |
[Body] |
[Intro] |
[Body] |
[Intro] |
[Body] |
Sidebar
[What About Price?] | Walk-in refrigerators are quite expensive: The cheapest on the market go for about $4,500, but the average is a few thousand above that price, and the numbers continue to rise ever skyward. There are plenty of models in the $15,000 range.
Other options, such as undercounter refrigeration, start at a little above $1,000.
When it comes to regular refrigerators, $150 refurbished options can be found easily, and new models are priced as low as $350. But if you're looking for something very high end, the residential models match the commercial options for prices. Viking and Northland, for instance, both make models that cost more than $10,000. It's certainly an investment, but a potentially delicious one.
Things You Will Need

When a Standard Refrigerator Isn't Enough in Your Kitchen