How to Install a Wood Panel on a Refrigerator Door
Installing wood paneling on the front of your refrigerator is a visually appealing way to streamline your kitchen design. It's important to know what type of fridge you have before embarking on this project.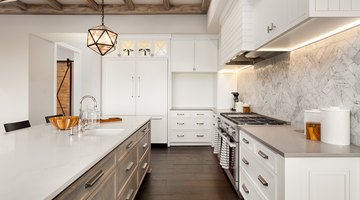 Sometimes, a plain white refrigerator door or a harsh stainless steel door just isn't very appealing. But, replacing your fridge can be a costly endeavor. Rather, why not camouflage your fridge with attractive wood paneling? This is a simple way to add sophistication and style to any kitchen. It's also a great way to extend the decor of your kitchen to your refrigerator, which helps to streamline your overall design scheme.
Different Types of Fridges
There are three primary types of refrigerators that are on the market or installed in homes. Knowing the differences between each is crucial before beginning any type of home renovation project. Not all refrigerators are customizable. If you want to install wood paneling on the front of your fridge, make sure it's possible to do so by researching your appliance's make and model.
A built-in refrigerator is an umbrella term for several types of fridges; these are directly built into the housing. Overlay, or "panel ready", refrigerators are typically counter-depth or built-in models that integrate with the surrounding cabinetry. This results in a unified look and feel. An integrated refrigerator seamlessly blends into your cabinet design and is completely hidden once installed. Integrated and overlay fridges both accept panels.
Installing Wood Panels for Your Fridge
Wood panel installation is a DIY project that some homeowners may decide to take on themselves. Depending on your fridge model, there are wood panel kits available that you're able to customize to your fridge. The installation process itself first involves measuring the fridge door, drawing the outline of the door onto a piece of wood veneer and cutting out the outline with a rotary saw. Then, you sand the edges down and prepare the wood by staining or decorating it as desired. Once this is done, a layer of glue is applied to the back of the panel and the panel is pressed into place.
If, however, installing your own wood panels sounds too challenging, there are many companies that make custom panels. This isn't always the most cost-effective option, but it does mean you're guaranteed to get perfect-fitting, long-lasting panels. Note the expense includes integrated handles as well.
Taking Care of Your Wood Panels
Once you've installed your fridge's wood paneling, taking care of your new panels is essential. The biggest threat to wood paneling is moisture, which can cause wear-and-tear around handles and knobs. Because of this, be careful not to handle your appliance with wet hands.
References
Writer Bio
Justine Harrington is a writer and editor based in Austin, Texas by way of Oklahoma. Find out more at www.justineharrington.com
More Articles