Can You Change the Color On the Front of a Bosch Dishwasher?
Bosch dishwashers are made with German engineering and are among "the most quiet and efficient dishwashers in the U.S.," according to the Bosch website. These dishwashers tend to be high-end and offer custom features, such as custom panels for the front of the dishwasher. If you have an older version Bosch dishwasher, you can change the color on the front of the dishwasher in a few more involved ways.
Panels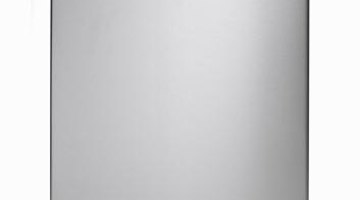 Some dishwasher manufacturers offer interchangeable panels so you can easily swap the color of the dishwasher by changing the panel. This feature is not available on Bosch dishwashers at the time of publication. However, Bosch does offer a custom panel option in which the front panel can be customized to match your existing cabinetry. In this manner, you can change your front panel to look like light, dark or cherry wood. Panel options include either one streamlined cabinetry cover or a panel that includes one large piece that looks like the bottom of a cabinet and a small section that resembles a door.
Door
If you have a Bosch model that comes in a variety of colors, you can swap out the door for a door in another color. Although this will be relatively expensive, it is cheaper than purchasing an entirely new dishwasher to get a new look.
Cover
If you want to make a change to the color of your dishwasher, but you don't want the change to be permanent, consider investing in a dishwasher cover. These covers are magnetic panels that you can add on top of your dishwasher that feature a variety of colors, patterns and seasonal images.
Refinishing
If you want to change your Bosch dishwasher to a different color permanently, have it refinished. The refinishing process will involve a professional coming into your home and spraying the appliance. Appliance paint is also available in home improvement stores, but try applying a layer to an unexposed area before you fully commit to this plan. This will help you gauge what the final color and overall look will be without damaging your dishwasher.
References
Writer Bio
Samantha Kemp is a lawyer for a general practice firm. She has been writing professionally since 2009. Her articles focus on legal issues, personal finance, business and education. Kemp acquired her JD from the University of Arkansas School of Law. She also has degrees in economics and business and teaching.
Photo Credits
Ryan McVay/Photodisc/Getty Images
More Articles