Is Foam Board Recyclable?
Foam board -- also called foam core or gator board -- is a lightweight mounting material usually made of a layer of polystyrene foam sandwiched between two pieces of thick paper or cardboard. Polystyrene foam is rarely recycled in community recycling programs, but with some legwork, you can do it!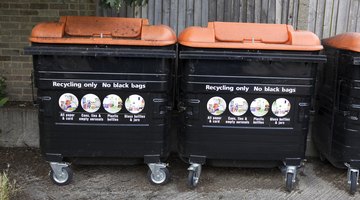 Polystyrene
Polystyrene foam, or PS, is commonly refereed to as Styrofoam, but this is actually a brand name of the Dow company. Polystyrene, with the chasing arrows symbol number six, is used for packing peanuts, meat trays, warm beverage cups, padded packaging as well as the foam facet of foam core. It is not an easily recycled plastic.
Traditional Foam Board
Polystyrene is more often reused than actually recycled. Very few community recycling programs accept foam, but you can ask your solid waste district if there are special drop-off days in your region. Your municipal recycling program may also know of local places, such as shipping companies, that accept it for reuse. You will need to remove the cardboard lining prior to recycling. Also, there are a number of mail-back programs to recycle polystyrene foam.
Greening Foam Board
There are many brands and varieties of foam board, some more eco-friendly than others. Look for thermoplastic foam core along with brands made with wood fiber. Always use as little foam board as possible and try to reuse it.
References
Resources
Writer Bio
Maureen Wise has been writing in the environmental field since 2003. Wise currently writes sustainability articles for a number of websites including Tom's of Maine, Piccolo Universe, EcoWatch and Care.com. She has worked in stream restoration and currently works in higher education sustainability. Wise graduated from the University of Mount Union.
Photo Credits
Lucy Claxton/Dorling Kindersley RF/Getty Images
Lucy Claxton/Dorling Kindersley RF/Getty Images
More Articles