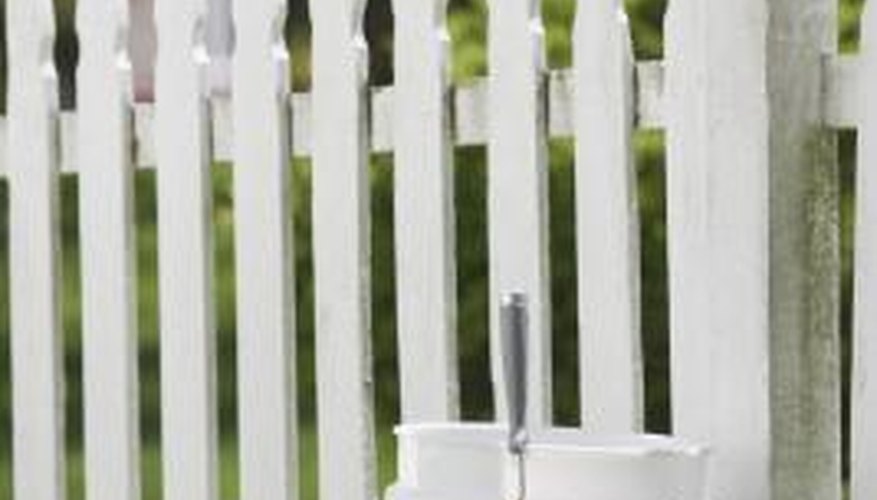 It is usually white but can be tinted with dyes for a color wash. Traditionally used in rural settings for barns, sheds, fences and other structures, lime wash -- otherwise known as whitewash -- is a cheaper alternative to paint to brighten and decorate utilitarian areas. Aged lime wash leaves a glossy patina on masonry and an antique look on wood.
Step 1
Spread out the plastic tarp or sheet, and place the furniture item in the middle of it.
Step 2
Wear safety goggles and a face mask while roughing up the surface of the furniture item with the sand paper or wire brush. Vacuum up all debris when you finish sanding.
Step 3
Wear safety goggles and rubber gloves, and put a cup of lime powder or putty into a large container with a gallon of water.
Step 4
Stir until thoroughly mixed to the consistency you want. Add more lime for thicker, more opaque coverage, or add more water for a thinner, stain-like wash.
Step 5
Add 12 ounces of glue/binder to the wash mixture and stir thoroughly. Use linseed oil for a glossy finish or casein for a matte finish.
Step 6
Apply the lime wash to the furniture item with a paint brush or cotton cloths, depending on the type of coverage you want. A thinner wash is easier to apply with cotton cloths, and a thick mixture is easier to apply with a paint brush.
Step 7
Let the lime wash dry thoroughly.
Step 8
Apply a second layer of wash if desired, especially on cement furniture items that will remain outdoors.
Things You Will Need

Large plastic tarp or sheet
Wood or cement furniture item
Safety goggles
Face mask
Sand paper or stiff wire brush
Shop vac
Rubber gloves
Large container to mix lime wash
Powdered or putty lime
Linseed oil or casein
Water
Stir stick or power drill with stirring attachment
Cotton cloths
Paint brushes
Tips
Add a few teaspoons of dye powder, color tint or food coloring if you prefer a color tint to white.

Use lime wash to brighten old wooden fences, garden benches, sheds and barns.

Use a thin lime wash to create an antique look on wood furniture such as chairs, rustic tables and benches, and hutches and dressers.