How to Remove Lap Marks on Water-Based Stain on a Deck
All kinds of marks can damage the appearance of the water-based stain on your outdoor deck. Something as simple as kids running laps around the deck can cause scuff marks and spread dirt and debris. When you're dealing with a water-based stain, the deck should be pretty resilient when it comes to blocking these marks. If you notice any marks on the deck, however, you should take the time to remove them before they get worse.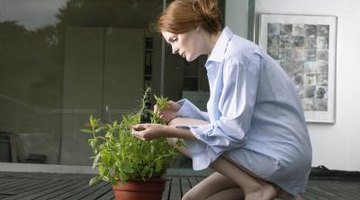 Step 1
Clear the water-based stained deck of all furniture and other items.
Step 2
Sweep the deck first using a large push broom. Protect the areas around your deck using large sheets of plastic. For example, any plants around the deck should be covered.
Step 3
Apply deck cleaner that's safe to use on water-based stained to the lap marks and other stains using a paint roller.
Step 4
Spread the deck cleaner using the stiff push broom. The cleaner should never be in puddles on the deck surface.
Step 5
Watch the cleaner carefully as you apply. No area should ever get dry.
Step 6
Scrub the lap marks using a stiff bristled cleaning brush. Continue scrubbing until the marks disappear.
Step 7
Rinse the cleaner from your deck within 10 minutes of applying it using your garden hose and a spray nozzle. If you think a lot of scrubbing will be needed to remove the marks, clean small areas at a time.
References
Tips
To ensure the cleaner does not dry, remove stains from your deck on a cloudy, cool day, rather than a warm, sunny day.
Writer Bio
J. Johnson has been completing freelance writing work since September 2009. Her work includes writing website content and small client projects. Johnson holds a degree in English from North Carolina State University.
Photo Credits
Tay Jnr/Digital Vision/Getty Images
More Articles