How to Cut Quartz Tiles
Quartz tile often is used throughout homes as a floor or wall covering. It comes in a variety of colors, patterns and different-sized mineral grains. The tile pieces can be cut into shapes and when using different colors, they may be arranged into interesting designs or patterns. Quartz is durable and long lasting. Quartz is a hard rock that is difficult to scratch, so it can withstand everyday use and still look beautiful.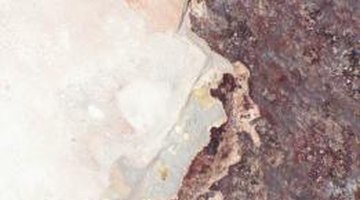 Step 1
To ensure a straight cut line, use a square. If the line is not straight, make and cut out a pattern from thin cardboard. Trace around the pattern to mark the cut line. Mark the cut line with a grease pencil.
Step 2
Equip the saw with a diamond blade.
Step 3
Set up the wet saw and fill the water reservoir according to the manufacturer's directions. You can buy or rent a wet saw at most home improvement stores.
Step 4
Line up the cutting mark with the blade.
Step 5
Plug the wet saw into the outlet and start it up. Let the saw run until it is at full speed before you start cutting.
Step 6
Push the tile toward the blade and start cutting. Move the tile slowly so you don't break or damage the tile or the saw.
Step 7
Check the cut piece to make sure it fits in the area where you need it. If you are confident the tile you cut works, continue to cut all the tiles you need. If it does not fit, cut the piece again, or choose a new piece and start over.
References
"Installing Floors"; Joseph Truini; 2010
"Designing Your Dream Home"; Susan Lang; 2008
Warnings
Read and follow directions on the brand of wet saw you are using.
When you leave the saw, make sure it is off and unplugged to keep accidents from happening.
Writer Bio
Gail Delaney is a writer in South Dakota and has articles published online at various websites. She is the garden editor for BellaOnline, with years of gardening experience. Being the caretaker of her parents led her in the direction of medical issues, especially natural remedies.
Photo Credits
Hemera Technologies/AbleStock.com/Getty Images
More Articles