Before you get your bottle of window cleaner and your lint-free rag from the cupboard, consider two reasons why they might not be the best materials. One of the most common ingredients in window cleaners is ammonia, which is corrosive and can dull the finish on the window frame. Moreover, wiping the glass is hard work, and it creates static electricity that attracts more dirt, so the window may appear dirty again shortly after you clean it. Watch the service station attendant wash your car's windows and you'll know the best way to wash your window panes at home.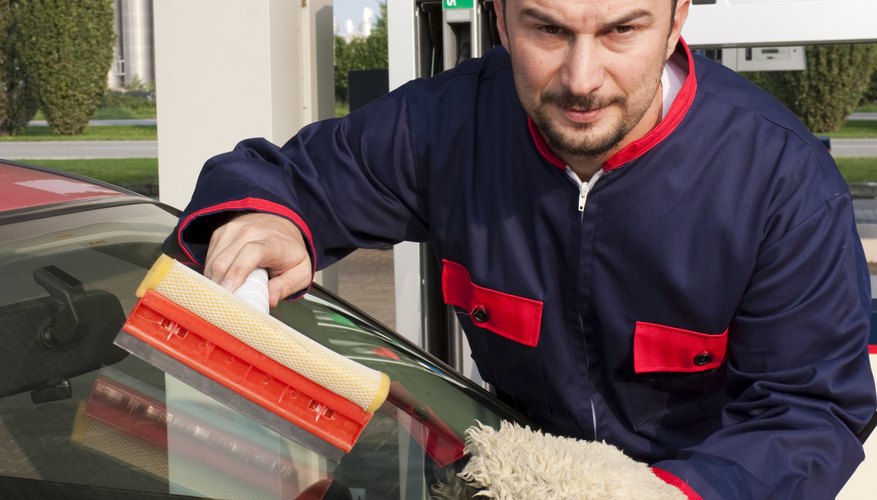 Gather your supplies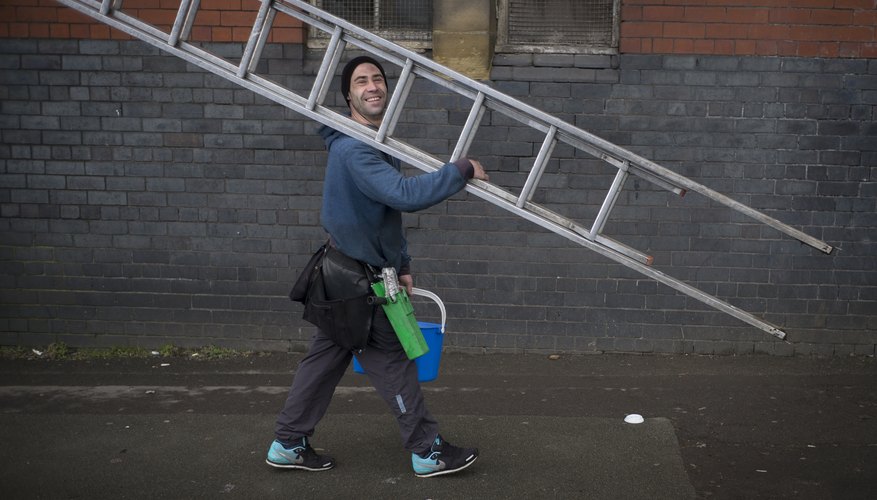 Obtain a window-washing squeegee with a sponge washer. Size the squeegee to the job -- a large one works best for picture windows, but if you're washing small panes, get one that fits in the frame. Fill a bucket with 1 or 2 gallons of warm water and add a capful of dish detergent per gallon.
Wash the glass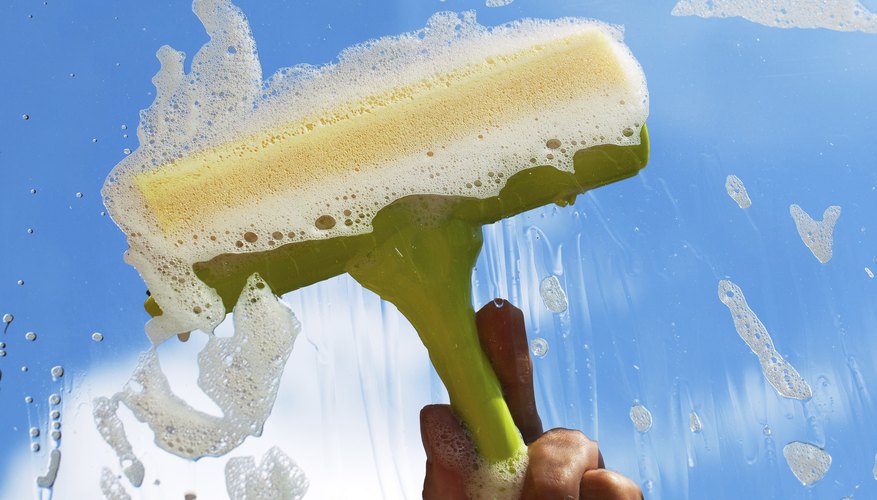 Dip the sponge applicator that's on the reverse side of the squeegee in the bucket and use it to wash the glass. The soap solution should remove even stubborn dirt, but you may have to scrape off some hard deposits -- such as dried paint -- with a razor knife. Go over any spots you scrape with the soapy sponge.
Wipe with a squeegee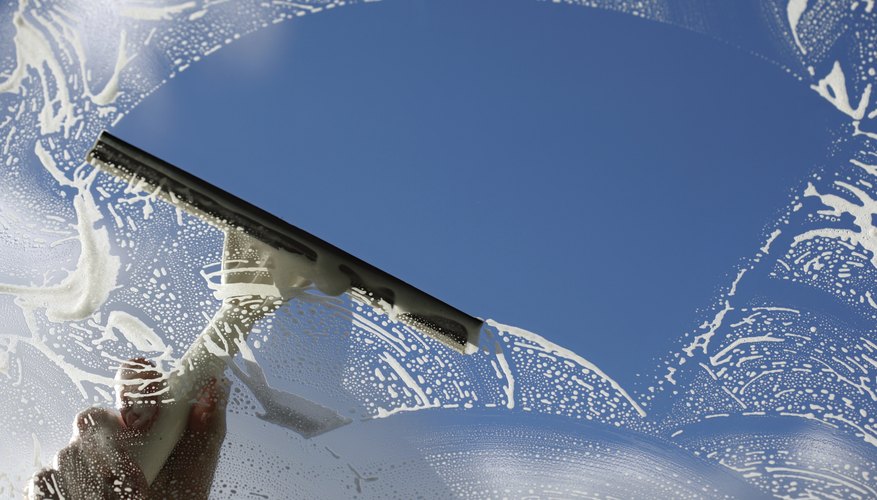 For large areas, such as glass patio doors, hold the squeegee on the opposite side of your body from the hand you use and draw it across the glass in a semi-circular motion. Use this motion to clean the bulk of the glass, then clean the edges with strokes parallel to the window frame. If you're washing small panes using a squeegee that just fits inside each pane, rely on horizontal strokes that start at the top of the pane. For a very small pane, a single downward stroke may do the job.
Dry the edges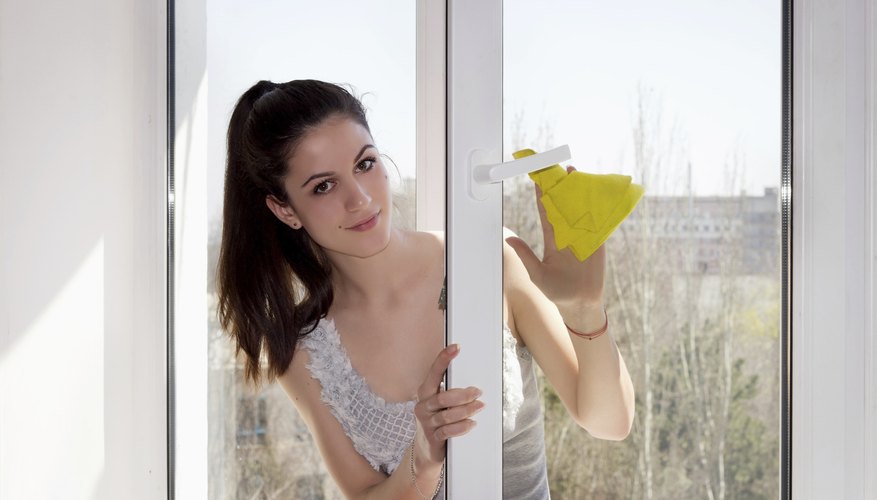 Clean the water that the squeegee leaves dripping on the edges of the pane with a chamois, which cleans without leaving streaks. If you don't have a chamois, use a lint-free cloth.
Scrub off mineral deposits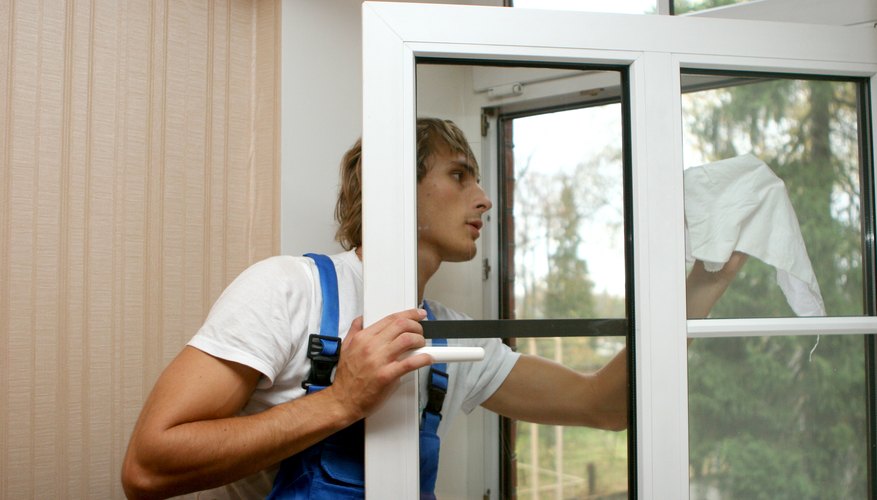 Use vinegar to make short work of mineral deposits left on outdoor windows by dripping water. Spray it at full strength onto the glass, using a spray bottle, and allow it to stay there for about five minutes. Wipe it off with a rag, and squeegee the window clean with soap and water.
Things You Will Need

Cleaning Cloths
Lint-free Rags
Ammonia
Commercial Glass Cleaner Or Vinegar
Garden Hose
Old Sheets Or Towels
Professional-quality Squeegee
Vacuum With Small Brush Attachment
Rubbing Alcohol
Newspaper Or Clean Blackboard Eraser
Beach Towel