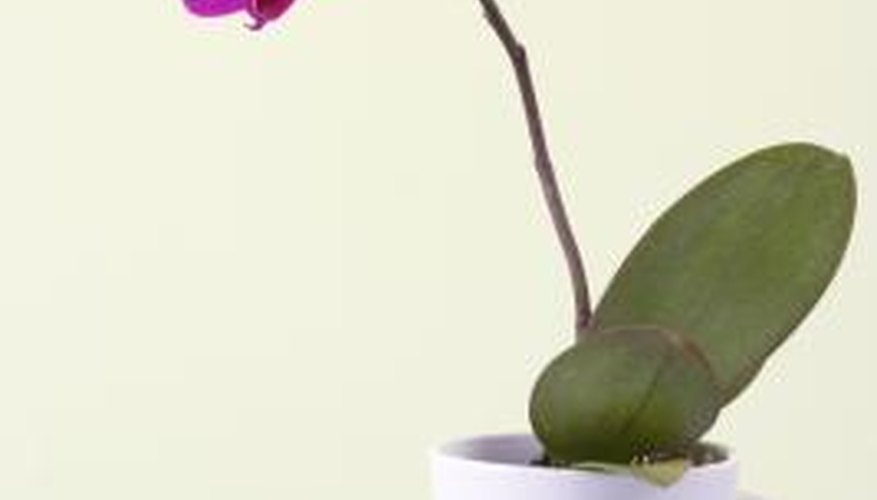 Making your own flowerpots for orchids doesn't require expert crafting status and saves money on assorted pots. Making your own orchid pots gives you the opportunity to present them as gifts or embellish your home table surfaces with decorative potted orchids.
Step 1
Add 1 cup of white school glue, 2 tablespoons of flour and 2 cups of hot water to a 2-quart glass bowl. Stir the mixture for two full minutes until it forms a milky, warm sludge.
Step 2
Shred assorted bits of paper such as construction paper, white printer paper and tissue paper. Add small cut-up squares of denim, canvas, silk or other materials. The total amount of shredded material needed for this task is 2 cups. Add the shredded material to the bowl with the warm paste sludge.
Step 3
Stir the ingredients for a minute, making sure the paper and fabric are well saturated. This combines fabric and papier-mache for a sturdy, eco-friendly orchid pot.
Step 4
Turn a coffee can, bowl or similar receptacle upside-down. Spray the surface with a fine layer of nonstick cooking spray.
Step 5
Form clumps of the pulpy sludge around the outside of the upturned receptacle. Coat the outer surface on all sides with about 1-1/2 inches of mixture. Leave the coated receptacle as is for 48 hours. During this time, it hardens and forms a shell. Slide the receptacle out of the shell and discard or wash it.
Step 6
Trim the rough edges of your papier-mache orchid pot smoothing it out and evening its appearance. Fill it with rocks and peat moss for holding a single orchid flower.
Things You Will Need

2 quart bowl
2 cups hot water
1 cup white school glue
2 tablespoons flour
Assorted papers and fabric strips
Scissors
Flower pot, can or bowl
Nonstick cooking spray
Spray lacquer
Tip
Decorate your orchid pots with eco-friendly paints for embellishment.