How to Decorate a River Home
The idea of life lived on the banks of the river captivates people who long for the smell of fresh, clean water and crisp river air in the morning. If you've finally embraced your dream of owning a home on the banks of a river and are trying to decorate your riverside home to do it justice, you'll want to keep a couple of ideas in mind. Life in a river home embraces simplicity as well as natural materials. It also pays homage to the river in the accessories you choose to bring out the character of your waterfront home.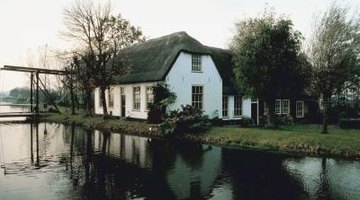 Choose colors for your home that match the river landscape surrounding you. This includes colors like deep forest and sage greens, reds, yellows, oranges, sand, grays and browns. When looking for furniture and accessories, look for items in these colors.

Keep the view of the river unobstructed by choosing curtains that allow you to enjoy the river view. An appropriate choice for your home is a tree branch curtain rod. This type of curtain allows you to use an interesting branch as the curtain rod. The curtain hangs from the rod from long straps, similar to the straps of a tank dress. Install curtain brackets on either side of the window. Slide your curtain onto the branch and set the branch into the curtain brackets.

Look for wood furniture and accessories. Consider Adirondack chairs, a couch with exposed arms, footstools with exposed wood legs, plain wood coffee and end tables and twig baskets that you place near the fireplace hearth to store kindling, the supplies for a knitting project or small fleece blankets.

Go with natural fabrics when possible. As you seek out the furniture for your river home, keep an eye out for furniture made from leather, cotton, linen or wool.

Add a handmade touch to your river home abode by choosing accessories like patchwork quilts, rag rugs and throw pillows with hand-sewn pillow shams.

Decorate with accessories found in and around the river. Fill a wooden bowl with pine cones; hang an old canoe and its paddles from the rafters of the ceiling; display a collection of antique fishing tackle boxes on the shelves of the built-in bookcase; hang a series of shadowboxes that show off your antique fishing lures and hang mounted or ceramic fish on the walls.

Make use of the mantel on your fireplace. Display sepia-toned photographs of your grandfather fly fishing in the river or find a tabletop easel and put up a small fish-themed watercolor by a local artist. Flank each end of the mantel with metal lanterns.
References
Resources
Writer Bio
Buffy Naillon has worked in the media industry since 1999, contributing to Germany's "Der Spiegel" magazine and various websites. She received a bachelor's degree in German from Boise State University. Naillon also attended New York University and participated in the foreign exchange program at Germany's Saarland University. She is completing her master's degree in educational technology at Boise State.
Photo Credits
Jupiterimages/Photos.com/Getty Images
More Articles