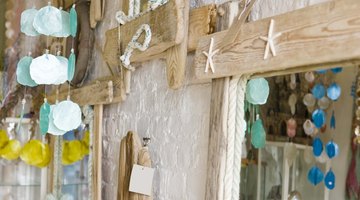 Collecting driftwood along the beach is a relaxing way to spend time as a family and to gather some free, organic art -- but hanging the "art" in your home in an natural fashion takes some thought. Mother Nature's weather- and water-worn driftwood has a nautical vibe that suits a rustic abode, but also can be that unexpected element in a modern or minimalist home. Suitable options for hanging driftwood might vary more than you think.
Float It
For midsize or large pieces of driftwood, float it using flush mounts. Drill starter holes for the hardware so the screws don't crack or split the wood. Place the hardware where it will not be visible from the front. The male and female ends slide together to mount an object as if it's floating on the wall.
Hook It
From cup hooks to coat hooks and plant hangers, you have numerous hook options to cradle or hold long, straight or curvy driftwood on the wall. Place two or more hooks where you need them, according to the shape and size of your wood. Screw decorative hooks into wall studs for durability or use wall anchors.
Glue It
Create a driftwood design on a canvas or over the top of an unwanted, inexpensive framed picture or print. Use hot glue to secure driftwood bits in any abstract or figurative design that you like; if the kids want to make their own, white glue is a safer option, but it takes longer to dry. Once the glue is dry, hang the canvas or framed pictures on the wall, using picture-hanging hardware. Alternatively, glue driftwood bits onto the frame of artwork or a mirror frame for a rustic touch.
Nail It
Use finishing nails to hold small, lightweight driftwood where you want it. The small nail heads will be practically invisible; use white nails for pale driftwood or silver-colored ones for grayer or darker wood.
Rope It
Twine, haywire or hemp rope has an earthy look that suits driftwood. Tie each end of a length of rope around each end of a piece of driftwood; the rope should be up to 1 1/2 times longer than the wood. Hang the driftwood by its rope on a wall hook or nail.
Thread It
A collection of small driftwood bits makes an interesting wind chime or whirly, free-form display to hang from the ceiling. For a wind chime, drill small holes in one end of each piece of wood. Thread clear fishing line through the holes. Tie each piece in a row along a perpendicular piece of driftwood, which suspends them. Hang the piece from the ceiling using fishing line or rope. For a whirling display, drill holes through the center of a collection of small, branchlike driftwood bits. Thread ribbon through the holes and tie a knot after each addition to keep the pieces separated. Make a loop at the top of the ribbon to hang the free-spinning display from the ceiling.
Resources
Writer Bio
Lorna Hordos is a home-flipping business owner and freelance writer. She writes friendly, conversational business, home and lifestyle articles for Bizfluent, azcentral, Daltile, Marazzi, Lowes, Philips Lighting, WordPress.com and numerous other publications.
Photo Credits
Jupiterimages/Goodshoot/Getty Images
Jupiterimages/Goodshoot/Getty Images
More Articles