How to Use an Old Violin for Decorative Purposes
Table of Contents
If your violin has played its last staccato or you no longer can tell its major scales from their relative minors, don't assume it has lost all value. No matter how old violins look or sound, they may have monetary value -- although many don't.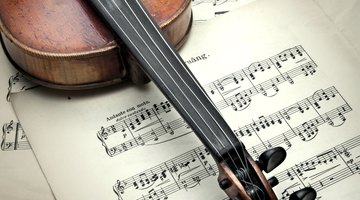 If your aging stringed instrument falls into the latter category, contemplate turning it into a decorative accent that honors its shapely body, slender neck and curly scroll rather than its musical ability -- or disability.
Color It Cool
Hang your old violin on the wall using a violin hanger, and it'll "play" to a shabby-chic sensibility. If you prefer a jazzier take, however, give it a color makeover. Paint the body's varnished areas a color that complements the room -- burnt orange for an autumn-inspired space; aqua or sand to meld with a beach theme; or white to jump off a colored wall or blend into a pale, monochromatic scheme. Rather than using paint, use silver or gold leaf for a timeless effect.
From Instrument to Art
Whether it's painted or not, the violin's body makes an ideal canvas for artsy touches or a hand-painted scene. Use tracing templates to apply a pattern or music notes for an all-over abstract effect, using black or white paint. A ruler helps you create stripes or a crisscross design. If you prefer freehand art, go for any musical-realm depiction -- a string orchestra or a lone hobo, awing a crowd, with her fiddle's "voice," as idea starters.
Concerto Grosso
With generous wall space, a grouping of stringed instruments provides more impact than a single violin. Balance such a display by arranging it across from a piano or a large, music-related painting. Rather than on the wall, display the grouping on their edges or ends in a reclaimed general-store counter, doctor's cabinet, or other large, vintage, glass-front or glass-door case. Line the shelves with old sheet music for ambiance. To make new sheet music appear old, brush it with watered-down soy sauce, coffee or tea, and then hang it to dry. Crinkle the paper and tear its edges for an even more timeworn look.
Violin Vase
They aren't very big, but the violin's F holes -- the italic "F" or S-like sound-output holes -- are useful when you use them as vessels for thin stems. Place your violin on its back. Fill the curvy holes with as many dried or silk flowers -- yarrow, salvia or phlox -- as they'll hold. The flowers will appear to "grow" from the instrument as a quirky, whimsical arrangement or centerpiece.
Open or Shut Case
An old violin case makes a charming and useful addition to any room. Drill holes on its top for vintage pulls, and use it as a coat hanger on the entryway wall. Or, set it on a bedroom dresser as an interesting catchall for change or jewelry. Make a hole in its back for charger cords and use it as docking station or decorative "hiding place" for cell phones. Left open, the lid's underside makes an ideal place to tack photos.
References
Resources
Writer Bio
Lorna Hordos is a home-flipping business owner and freelance writer. She writes friendly, conversational business, home and lifestyle articles for Bizfluent, azcentral, Daltile, Marazzi, Lowes, Philips Lighting, WordPress.com and numerous other publications.
Photo Credits
MarkRubens/iStock/Getty Images
MarkRubens/iStock/Getty Images
More Articles