How to Use Old Farm Equipment to Decorate
Old farm equipment adds a rustic touch to decor for the backyard, garden, front porch -- or even inside, in moderation.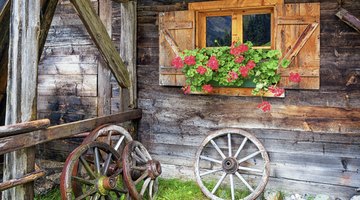 Everything from wagon wheels to a wooden wheelbarrow may be repurposed into decor around the house; in some cases, the old pieces can even do double duty, housing plant pots or serving as a chandelier, for instance.
From Garden to Garage
Antique farm equipment tends to be made of wood and metal, rusted and aged to display-worthy perfection over the years. An old two-person tree saw -- the type with gnarly teeth, a long blade and a handle on each end -- creates an interesting piece of wall art above the door on a garden shed or a garage, out of reach of children. An old pitchfork, shovel or sickle serve as rustic decor for the outside walls of the shed or garage; add large farm tools as you come across them for an eclectic, ever-changing display. Mount them with old spurs or rusted chain-link fence clasps attached to boards for added visual interest; the tool handles hang from the spurs or clasps.
Large-Scale Looks
If you live on a large property with plenty of yard space, large-scale farm equipment provides a stunning sight, even from afar. Place a large antique tractor complete with metal wheels in a place visible from the road; leave it in rusty, rustic condition, or paint it bright red or a color true to its origins. Search the make and model of the tractor online, if known, to find out its probable original color if all the paint is gone. A wagon near the driveway provides a playful space for additional decor -- in the autumn, stack bales of hay and a few pumpkins atop it; in the spring, jazz it up with an assortment of crocks or flowerpots filled with colorful plants and flowers.
Complete Circles
Circular wooden wagon wheels, huge metal tractor wheels and old grinding and sharpening stones add a soft touch to rustic decor with their round shapes. Lean a wagon wheel against a picket fence in a flowerbed, or against a lamppost or mailbox post. Use a huge metal tractor wheel as a centerpiece for a small flowerbed, allowing vines or roses to climb on it. Large grinding stones and sharpening stones add an organic look to an outdoor display -- lean them against posts, like the wagon wheels, or use an assortment as unusual stepping stones for a path to the garden or backyard.
Close to Home
While you may not have space for large farm equipment indoors or on the porch, small- to medium-sized bits of farm gear add a rustic touch to your home. A wooden wagon wheel, fitted with a series of chains and small, open-topped tins, becomes an unusual chandelier for battery-operated tealight candles, or tealights dropped into deep glass votive holders. Punch holes in the tins in a pattern such as a star or crescent moon to allow the candlelight to shine through. Attach the chandelier to a beam on the ceiling of a tall porch, or from a sturdy beam indoors. A butter churn becomes a planter for ivy on the front porch; a wooden wheelbarrow holds seasonal potted plants for an ever-changing display of greenery, flowers or herbs.
References
Resources
Writer Bio
Kathy Adams is an award-winning writer. She is an avid DIYer that is equally at home repurposing random objects into new, useful creations as she is at supporting community gardening efforts and writing about healthy alternatives to household chemicals. She's written numerous DIY articles for paint and decor companies, as well as for Black + Decker, Hunker, Landlordology, SFGate and others.
Photo Credits
xyno/iStock/Getty Images
xyno/iStock/Getty Images
More Articles