How to Hide an Unused Bedroom Patio Door
Even if your bedroom leads outside to a patio, you may never use it. Covering it up may give you more options for room arrangement. It also provides an opportunity to create an eye-catching floor-to-ceiling decorative piece. Decide how to cover up the door based on elements your room may need, such as extra storage space, a burst of color or a touch of texture.
In the Bedroom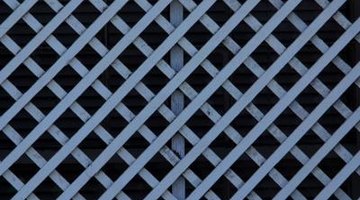 Step 1
Hang a curtain in front of the door from the ceiling. Install a curtain rod per manufacturer instructions into ceiling joists. Use a floor-length curtain panel that hides the door completely.
Step 2
Place a decorative dividing screen in front of the door. This works especially well in a bedroom. Place a chair and vanity table nearby to complete the look.
Step 3
Hang an oversized canvas in front of the door, measuring almost from floor to ceiling. Cover it with fabric or textured paper, or paint it.
Step 4
Place a tall bookcase in front of the door. Fill it with books and decorative accents.
Step 5
Place a large mirror in front of the door. It makes the room appear larger and reflects light.
From the Outside
Step 1
Place a large container tree or plant in front of it.
Step 2
Plant a climbing vine in front of the patio door. Install a lattice in front of the door. Vines will begin to hide it as they grow.
Step 3
Hang a vertical garden canvas or tarp in front of the door. Each tarp has individual pockets to place plants in. The tarp hides the door, and the plants begin to hide the tarp as they grow. Use an old shoe organizer with drain holes poked in individual pockets if necessary.