Measuring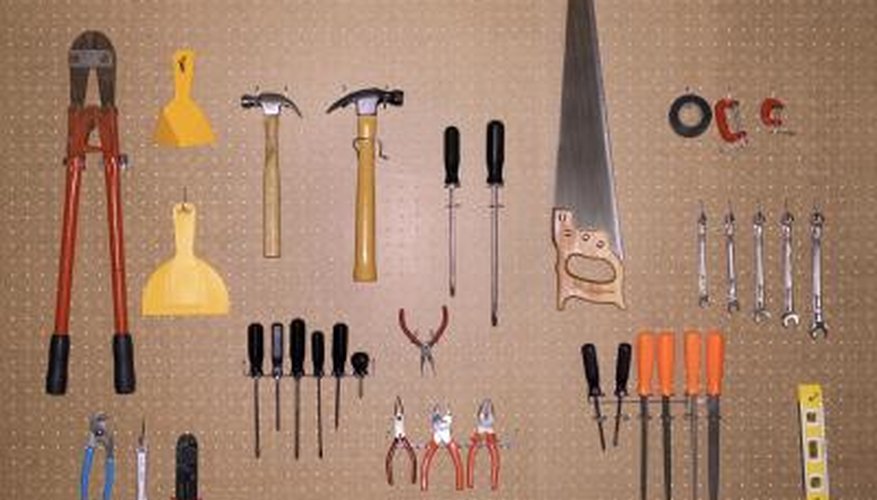 It's easy to hang pegboard that doesn't have a frame by attaching wood anchoring strips before hanging the pegboard to create space behind the pegboard. While it's possible to do the job yourself, you may find having an assistant makes the job easier.
Step 1
Measure where you want the pegboard to hang horizontally with a ruler or tape measure. Place two marks on the wall using a pencil. Position a level next to the marks to ensure the marks are level. When the bubble is in the middle of the level's gauge, the marks are level. If not, adjust the level until the bubble lands in the center and draw a line with a pencil.
Step 2
Make two more marks parallel to the first line for the lowest horizontal position of the pegboard, using the level to verify that the line is parallel to the top line. Draw the line.
Step 3
Mark the vertical positioning of the pegboard by holding up a 1-by-2 strip and marking both ends. Use the ruler to note a position exactly 1 inch inside each end of the horizontal line, where you need to put in anchor bolts. Depending on how wide the pegboard is, you may need a third anchor bolt to hold the center of the pegboard. If so, measure the distance between the two 1-inch marks, divide by two and place the mark on the wall. Place these marks on the 1-by-2 strips, also.
Hanging
Step 1
Drill holes in the wall where you made the marks and insert the anchor bolts. Tap them lightly with a hammer. The packaging for anchor bolts contains information on the right drill bit size to use for the bolts.
Step 2
Use a smaller drill bit to drill pilot holes for the 1-by-2 boards. Ask your assistant to hold the strip for you while you insert the screws into the wood strip and the anchor bolts. Continue until all the screws are in position.
Step 3
Place the pegboard against the 1-by-2 strips and hold it against the top strip. Use a pencil to mark places to drill two pilot holes into the strips to hang the pegboard. After drilling the holes, hold the pegboard back up and use the screws and screwdriver to attach the pegboard to the wood. Continue drilling pilot holes and inserting the screws until the pegboard is securely attached at both the top and bottom.
Things You Will Need

Assistant (optional)
Ruler
Pencil
Level
Two 1 by 2 boards
Drill
Drill bits
Anchor bolts
Wood screws
Screwdriver
Pegboard
Tip
Paint the pegboard before hanging it to add color to your decor and make the pegboard's surface easier to clean.