How to Build Pie-Shaped Stairs
The shape in which stairs are built depends mostly on the space that is available to build them. When the architecture of a building provides adequate space, the result is usually wide, straight stairs. In crowded areas, stair builders often resort to spiral or winding staircases, resulting in pie-shaped stairs. The pie-shaped steps may be continuous, as in a spiral staircase, or they may be used in conjunction with straight stairs as on a steep staircase with a landing.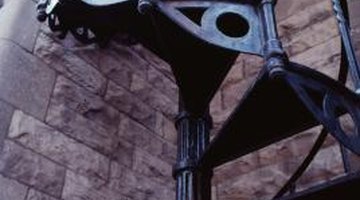 Step 1
Lay out your stair design on a piece of graph paper with a pencil. Measure the area that you have to work with and the height that the stairs have to cover. Assuming that stairs need a maximum nine-inch rise for each step and a minimum ten-inch width for a tread, measuring the widest point on a pie-shaped stair, figure out the most sensible configuration for the space.
Step 2
Make templates for the pie-shaped stairs when you are building the staircase. You can make these out of stiff cardboard using a utility knife and fit them into place to be sure they fit. This is much easier than guessing with a piece of hardwood. Once you have the right shape and size, trace the template onto the material you are using for the stair and cut it out with a bandsaw or jigsaw.
Step 3
Attach the stairs to the risers either by nailing down through the face of the stair and into the riser or by attaching a cleat to the back of the riser and then screwing up through the cleat into the bottom of the pie-shaped step.
References
Tips
Always wear eye and ear protection when working with power tools.
Writer Bio
Jagg Xaxx has been writing since 1983. His primary areas of writing include surrealism, Buddhist iconography and environmental issues. Xaxx worked as a cabinetmaker for 12 years, as well as building and renovating several houses. Xaxx holds a Doctor of Philosophy in art history from the University of Manchester in the U.K.
Photo Credits
Photos.com/Photos.com/Getty Images
More Articles