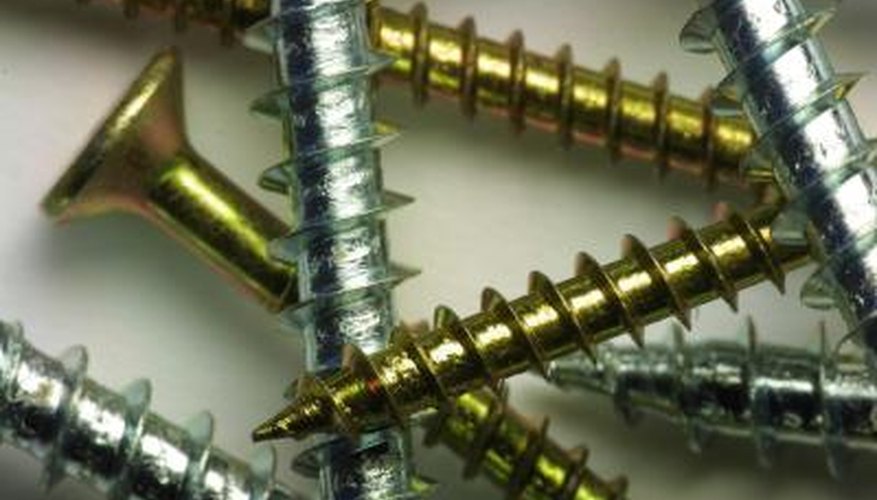 Essentially, a stripped screw hole is simply a hole in the wood that has become too large to firmly hold on to and stabilize the screw. Luckily, with a few basic tools, fixing stripped screw holes in your door frame is a quick and easy process that will have your door hanging securely in place in no time.
Step 1
Remove the screws from the side of the hinge that has the stripped screw hole with the screwdriver. Swing the unscrewed portion of the hinge aside so that you can access the stripped screw holes.
Step 2
Cut off the tips of the matchsticks with the side cutters. This will help you avoid any accidental fires.
Step 3
Push two wooden matchsticks into the stripped screw hole. Depending on the size of the hole, you might need to add more matchsticks to make sure that the stripped screw hole is fairly well packed with them.
Step 4
Cut off the ends of the matchsticks that do not fit in the hole with the side cutters.
Step 5
Place the flat-headed punch against the matchsticks and gently tap the flat-headed punch with the hammer to secure the matchsticks firmly and deeply into the stripped screw hole.
Step 6
Replace the hinge and sink the screw back into the newly filled hole with the drill.
Things You Will Need

Screwdriver
Wooden matchsticks
Side cutters
Flat-headed punch
Hammer
Screws
Drill
Tip
In addition to wooden matchsticks, a small dowel, toothpicks or a golf tee can be used to fill in a stripped screw hole.