How to Bleach a White Oak Floor
White oak wood, contrary to its name, does have some color to it, which can be removed with a bleaching treatment. White oak wood is light brown, perhaps with a greyish or pinkish cast. Some white oak wood may look very light in tone, more cream than brown. White oak is tougher than red oak, and durable when used in flooring. A stain, discoloration or general unhappiness with the color may prompt you to try bleaching the wood. Work with caution when bleaching wood to avoid taking out too much color and causing permanent damage.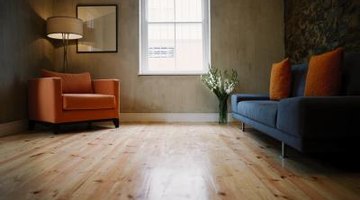 Step 1
Determine whether you need peroxide, oxalic acid or chlorine bleach to perform the bleaching treatment. All three are used in bleaching procedures, and all three have different effects on white oak floors. Use peroxide bleach to lighten the natural wood color; this will not work on dye stains. Chlorine bleach is effective in lightening dye stains. Oxalic acid removes tannic acid stains, which occur in oak floors. Tannic acid stains usually look blackish in color.
Step 2
Dampen a clean cloth with denatured alcohol and wash the wood to remove dirt.
Step 3
Sand wood with sandpaper or a mechanical sander to remove paint and varnish.
Step 4
Sweep with a broom or vacuum the floor to remove all debris and dust.
Step 5
Wash the floor again with a clean cloth soaked in mineral spirits. The mineral spirits will remove all grease and oil.
Step 6
Open windows and doors to provide ventilation in the room in which you are bleaching the floor.
Step 7
Put on tough plastic or rubber gloves, and affix a pair of safety glasses to your face.
Step 8
Pour your bleaching solution directly into a plastic bucket -- do not dilute.
Step 9
Dip a clean cloth into the bleaching agent and apply it directly to the floor, wiping it across the wood with even, broad strokes. Use a sponge or brush to apply the bleaching agent only to certain areas of the floor. If you are doing a large area of floor, you may consider renting a spray gun from a home improvement store to spread the bleaching agent quickly. Wash the gun in cold water immediately after use.
Step 10
Allow the floor to dry completely; the process will take from 6 to 15 hours. Wait even longer, if necessary, to be certain the white oak is dry before proceeding.
Step 11
Wash the wood again with denatured alcohol, and sand the wood again to remove any bleach that was absorbed into the cracks of the wood. Sand only lightly to avoid revealing unbleached wood underneath the treated floor.
References
Resources
Writer Bio
K. C. Morgan is a professional freelance writer, with articles and blog posts appearing on dozens of sites. During her years of writing professionally, K. C. has covered a wide range of topics. She has interviewed experts in several fields, including celebrated psychoanalyst Frances Cohen Praver, PhD; television personality and psychotherapist Dr. Robi Ludwig; and entrepreneur Todd Reed.
Photo Credits
Stockbyte/Stockbyte/Getty Images
More Articles