How to Remove Varnish From Slate
Two of the best features that come to mind in regards to slate tile are durability and resistance to stains. This makes it the ideal candidate for a flooring product, whether inside or out. Though it is considered brittle by some standards, the ease of maintenance has made it a popular choice amongst contemporary homeowners. Cleaning liquids off slate tile usually involves a little mild soap and water, but spilling a chemical as harsh as varnish should be worrisome. In all actuality, it is nearly as easy to remove varnish as it is a spilled glass of water.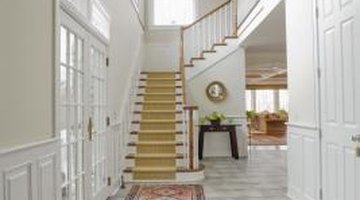 Step 1
Mix 1/2 cup mild dish soap with 2 gallons warm water in a bucket. Wet the sponge in the solution and wring it out. Wipe up as much of the spilled or dripped varnish as possible.
Step 2
Spray the immediate area with the spray solvent and scrub vigorously with the plastic scrub brush. Allow the product to sit for 10 minutes.
Step 3
Spray the area again and scrub with the brush. Wipe the area with the sponge and let it dry for a few minutes.
Step 4
Continue spraying and scrubbing with the solvent every 10 minutes until all traces of the varnish are removed. This should only take two or three times at the most.
Step 5
Use the mop to scrub the entire slate surface. Rinse with clear water and allow the floor an hour or two to dry.