How to Remove Slate Sealer
Slate is a natural stone product used in multiple areas in and around the home. Because the surface of slate is frequently cleft, two different sealers may be applied to the face of the stone. The first sealer will not affect the look of the stone, but will help to protect it. The second sealer will darken and enhance the color of the stone.
If the second sealer has been applied in error and you wish to remove it, or if either sealer has gotten on a nearby surface, you can use one of two methods to remove it, depending on how long it has been there.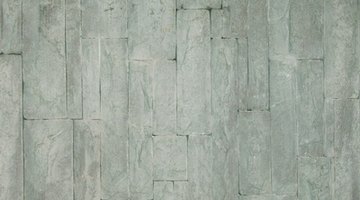 Step 1
Apply more of the sealant you wish to remove to the slate or affected area. Sealants can emulsify themselves if the first application is fresh enough. Paint the new layer of sealer over the old with a foam paintbrush. Wait for 10 to 15 minutes and then begin wiping with a lint-free cloth. If the sealer is emulsifying, but still tacky, apply more and wait longer.
Step 2
Apply sealant stripper to the affected area with a foam paintbrush. The stripper will remove all layers of sealant from the stone. Wipe up the stripper and the sealant with a lint-free cloth.
Step 3
Clean the slate well with a stone cleaner. Stone cleaners are available in spray bottles. Spray the cleanser on the stone, and buff with a lint-free cloth to remove any residue from the stripper or sealer.
References
Writer Bio
Sarabeth Asaff has worked in and has written about the home improvement industry since 1995. She has written numerous articles on art, interior design and home improvements, specializing in kitchen and bathroom design. A member in good standing with the National Kitchen and Bath Association, Asaff has working knowledge of all areas of home design.
Photo Credits
More Articles