How to Kill Mold on Travertine
Travertine is a natural stone used in home construction that is sensitive to harsh cleaning methods and chemicals. It should always be cleaned with stone-safe products. No matter how gentle a product may seem, if it is not labeled safe for natural stone, it shouldn't be used. Travertine kitchen counters and showers are subject to mold and mildew growth if not sealed properly. Once the mold is killed, it is important to apply a high quality stone sealant to the surface. Completion time for this home improvement project is one day.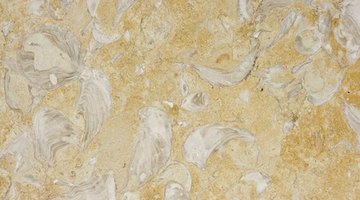 Mix a solution of 50 percent water and 50 percent natural stone cleaner in a bucket. This product is available at most home improvement centers. Check the label to ensure it is safe for travertine tile and contains a mold-killing agent.

Soak a microfiber cloth in the cleaning solution. Wring it out and scrub the travertine tile surface. Use a soft-bristle brush to clean the grout areas.

Rinse with a microfiber cloth dampened with clear water. Allow the surface 3 or 4 hours to dry.

Add a quality stone sealer to a paint sprayer. Mist a fine layer of sealant over the travertine. Allow the travertine surface 24 hours to dry.
References
Resources
Tips
Weigh the advantages and disadvantages of penetrating and topical stone sealers before making the purchase. Natural Stone Interiors states, "Topical sealers alter the appearance of the stone by adding a gloss sheen. They may also deepen the color of your stone."
Warnings
Wear safety glasses, gloves and a ventilator mask when working with these chemicals.
Keep the area well ventilated while the sealant dries.
Photo Credits
Marble texture image by Viacheslav Anyakin from Fotolia.com
More Articles