How to Replace the Rotted Floor Joist of a Garden Shed
Strong wooden beams help add stability to the floor of a garden shed or any other structure. Unfortunately, excessive moisture, termites and poor construction can cause floor joists to rot and buckle, compromising the safety of your shed. Luckily, a process known as sistering allows for a simple repair of rotted floor beams. However, it will not solve the problems that caused the floor joists to rot in the first place.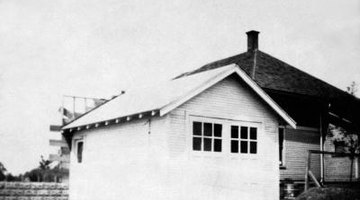 Step 1
Expose the rotted beam. In some sheds it may mean removing the subflooring or accessing the floor joists from the crawlspace beneath the shed.
Step 2
Measure the length and width of the rotting beam. Take those measurements to the lumber yard. Ask the staff to assist you in purchasing the correct size beam for your floor. Beams with 4-by-6 dimensions often work well for this project.
Step 3
Locate the portion of the beam that has not been affected by rot. Measure the length of the rotted piece. Cut the new beam to a length about 10 inches longer than the rotted piece of beam.
Step 4
Fit the beam into the floor next to the rotted beam. Line up the beams so that the new beam overlaps the rotted beam. The new beam should meet the edges of the old beam least affected by rot. Use your nail gun, firing three to five nails through the good beam into the failing one. Repeat on the opposite end.
Step 5
Use your hand saw to help cut out and remove the rotting areas of the failing beam. Joining a new beam to the rotting one helps repair the floor, making it strong.
References
Tips
Typically, a complete replacement of rotted floor joists is not recommended by DIY-ers. Severely rotted joists require the work of a construction professional. Sistering allows you to fix the problem without hiring a contractor. A moisture problem can cause the new joists to rot, so it is important to solve any moisture problems before repairing the floor. Many home improvement stores will cut your wood to size, eliminating the need for a table saw.
Photo Credits
Thinkstock Images/Comstock/Getty Images
More Articles