Sander Distress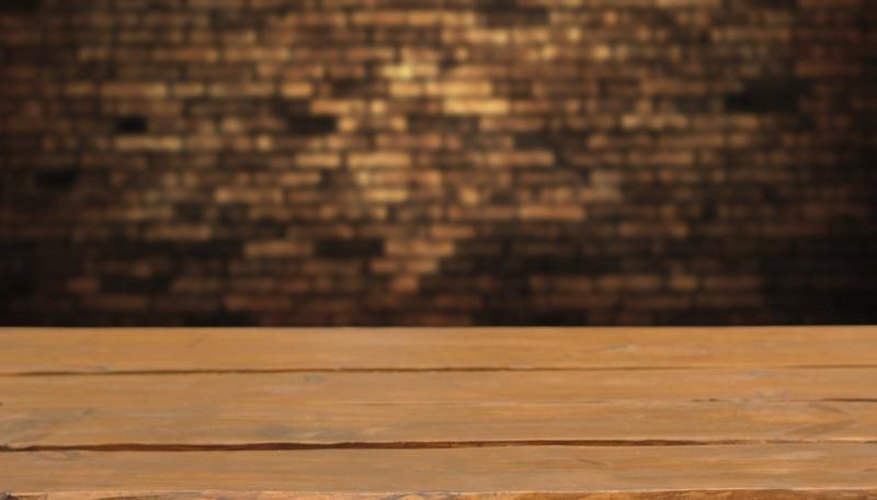 The degree of distress is up to you. Beat it with chains to produce furniture that appears to have been used for years. Treat it with common products to impart just the right amount of charm. The technique is permanent, so don't overdo it. Strive for a well-worn look -- not that of an abused item. And practice on scrap wood before beating the daylights out of your favorite chair.
Sanders provide an almost foolproof way to distress oak. Belt sanders work particularly well for this. Use them to blunt and round corners and edges on tables and chairs, giving them a well-worn appearance. Use the blunt, rounded nose of the sander to create dips at erratic intervals. Turn the sander sideways and use the edge of the belt to cut shallow grooves. Orbital sanders can be used to add distress in the same way, to a lesser degree. Combine both types if desired.
Driftwood Distress
Use wire brushes to scrape away soft grain, allowing harder grain lines to emerge. Work in the direction of the grain to give oak furniture a distressed driftwood appearance. Take it to the next level with a sandblaster, exposing hard grain a higher degree. This approach requires safety equipment such as a blasting helmet with hood and gloves and a controlled environment with ventilation. Consult local environmental codes and regulations before attempting sandblasting. Almost nothing distresses oak to a higher degree than sandblasting.
Hand Tools
Hand tools provide user-friendly methods of distressing oak. Use ordinary tools like scrapers or knives to mar the surface. Cut irregular grooves, slashes and round edges. Work in the direction of the grain, but don't limit yourself; throw in a diagonal mark or scratch here and there to balance it. Use small hammers to create irregular dents, making some shallow and some deep. Mass-produce the effect by beating the table or chair with a small chain. Use a bigger chain for a more dramatic effect. Fill a sock with nuts, bolts or anything you like and beat the furniture randomly for a mass-produced distressed appearance.
Stain Dark
Some people use chemicals such as oxalic acid, lime or whitewash in search of distress, but these products lighten it too much. Use these products to provide an antique appearance. Use dark stain to impart a distressed appearance. After the initial distressing preparation, or even without it, hand-wipe the wood with dark stain. Oil stain is best because it penetrates deep, but water or solvent-based stain is fine if it's dark. Use a acetone-dampened cloth to wipe the wood after the stain is dry. As stain is removed from harder grain, it leaves darker stain in the soft grain, resembling natural fading patterns. Use more effort to wipe the stain off edges and corners and where hand traffic -- knobs, handles, edges -- are naturally worn away. Add a coat of woodworkers paste wax to finish it off.
Topping it Off
Old World craftsmen used natural topcoat products. Shellac and some types of varnish still have the deep, golden appearance of natural aging. Use these types of finishes for an authentic distressed appearance. It's fine to use contemporary, low-gloss or eggshell lacquer, though. Lacquer dries faster and is easier to use than shellac or varnish. If you're distressing a large number of cabinets, lacquer is probably the best choice, since it can be used in spray guns more effectively.