How to Make a Rope Ladder for Bunk Beds
Children will enjoy climbing this sturdy rope ladder that leads to a top bunk bed. Kids over the age of 8 can be drafted into helping make the ladder, which relies on some uncomplicated knots and a few wooden dowels. The completed ladder is attached to one end of the bunk beds but can be moved to other indoor and outdoor locations if needed. Strong nylon rope, found at hardware supply stores, is used for the ladder.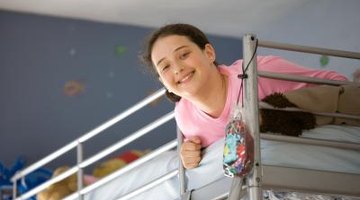 Step 1
Place a dowel in the vise and drill two 3/4-inch diameter holes in each wooden dowel 2 inches from each end.
Step 2
Cut the nylon rope length in half with the scissors. Make a knot in one rope length 2 inches from the end. Repeat with the other rope length.
Step 3
Thread both free rope ends in the holes in one dowel and slide the dowel to the knots. Make knots with the ropes directly above the dowel.
Step 4
Knot the ropes 10 inches above the previous knots. Thread and slide another dowel to the knots. Make knots with the ropes directly above the dowel. Repeat this step until all dowels have been attached to the rope ladder.
Step 5
Tie the free top rope ladder ends to one end of the top bunk bed with square knots, which don't loosen when you pull on them. Cut off excess rope ends with the scissors.
References
Black and Decker: The Complete Guide; Phillip Schmidt
Des Pawson's Knot Craft; Des Pawson
Resources
Writer Bio
Linda Shepard has been staff writer for "C & G Newspapers" for over 10 years, covering local government and crime and serving as the newspaper's food writer. She has written for "Michigan Meetings Magazine" and is also the owner of Spectacularstrolls.com, an online business of self-guided walking tours.
Photo Credits
Jupiterimages/Photos.com/Getty Images
More Articles