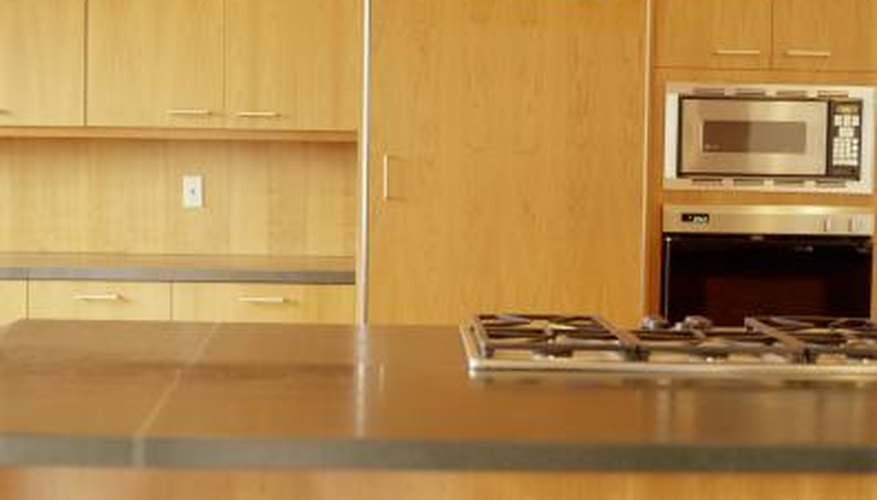 It draws smoke, gas, odors and cooking residue up and out of your kitchen to minimize surface grime and air contaminants from the cooking process. The device, however, can be just as unsightly as it is useful. You can hide a kitchen stove's vent hood in one of several ways. To find out which method is right for you, ask yourself a few questions to determine your needs and options.
Step 1
Determine your budget. If money is no object, then replace the existing vent hood with a retractable vent hood. Such a hood may be installed into the back of the stove or the ceiling or cabinets above the stove. It descends automatically or manually when needed and tucks completely out of sight when not in use.
Step 2
Measure the amount of space available. If room allows, install bottomless cabinets around the kitchen hood venting to hide it. An alternative for more functional camouflage is to install an over-the-range microwave oven vent. Each option installs over the stove and draws air through vents in their bottom. A microwave oven model with sensors adjusts microwave cooking power and time to incorporate the heat received from the stove.
Step 3
Assess your do-it-yourself (DIY) capabilities. For a simple solution, cut and paint or upholster a plywood panel to match the wall behind the stove. Attach the panel to the ceiling just in front of the hood with two or more "L" brackets to camouflage the vent and help it blend into the wall behind it. If your DIY capabilities are limited, simply paint the vent the color of the wall behind it. A few spray cans of epoxy primer and paint and a day's work will help the hood venting blend into the background and make less of a statement in the kitchen.
Things You Will Need

Retractable vent hood (optional)
Tape measure (optional)
Drill, screwdriver or hammer (optional)
Screws or nails (optional)
Bottomless cabinets (optional)
Over-the-range microwave oven vent (optional)
Plywood panel (optional)
Saw (optional)
Paint (optional)
Paintbrush or paint roller (optional)
2 or more L brackets (optional)
Epoxy primer (optional)