How Do I Get an AC Unit Up on the Roof?
An air-conditioning unit suitable for installation on a roof can weigh more than 500 pounds. Only a trained professional should manage the process -- because of the extreme weight of the unit and the complexity of the project. People not trained in placing AC units on roofs could cause significant injury to people or damage to the house. Installation requires careful planning and attention to safety. At least two people are necessary for rooftop placement, including one who must remain on the roof while the unit is placed.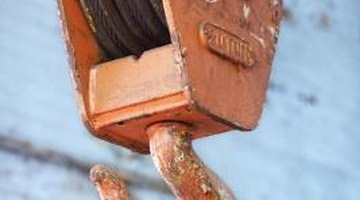 Step 1
Order a general inspection of your roof by a roofing contractor to confirm the roof is in good condition and can support the weight of the AC unit.
Step 2
Check with your homeowner's insurance agent about potential liability issues, such as the unit falling during installation and damaging your roof or a neighbor's property.
Step 3
Hire an experienced crane operator and crane capable of lifting the unit to your roof. Get referrals for crane operators and cranes from a local home-improvement store.
Step 4
Talk to the crane operator about common hand signals used during crane operation, if you intend to stand on the roof and direct placement of the AC unit. Or have the crane operator bring along an assistant who can stand on the roof and direct the operation.
Step 5
Use traffic cones to mark off the area where the crane will park during the installation. Do this before the crane arrives. If necessary, notify neighbors so that they will not park in front of your house or building.
Step 6
Order delivery of the unit to your curb for the morning of the installation
Step 7
Direct the crane operator to attach the unit to the crane and lift it to the roof.
References
Tips
Hire a trained heating, ventilation and air-conditioning specialist to install the AC. Have the technician make modifications to the roof, as necessary, in advance. Direct the technician to stand on the roof and help direct as the AC unit is put in place.
Writer Bio
Robert Lee has been an entrepreneur and writer with a background in starting small businesses since 1974. He has written for various websites and for several daily and community newspapers on a wide variety of topics, including business, the Internet economy and more. He studied English in college and earned a Bachelor of Arts in liberal arts from Governor's State University.
Photo Credits
Thinkstock Images/Comstock/Getty Images
More Articles