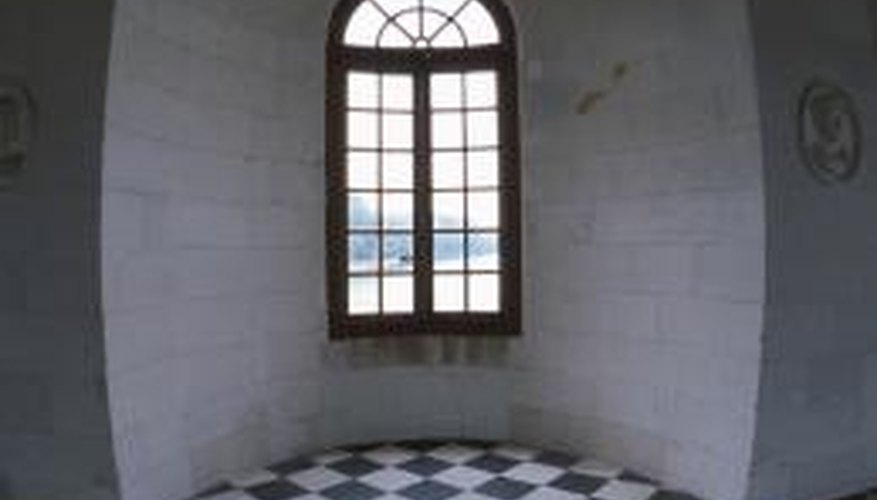 While there are numerous cutting protocols you can use, the fastest and most efficient way is to use a plunge-cut tile wet saw, which combines the plunge effect of a miter saw with the cutting capabilities of a tile wet saw. This allows you to quickly and efficiently cut the vent and get on with the rest of the installation.
Step 1
Mark your piece of tile accordingly. Measure out from the nearest full tile piece to the vent cutout and transfer those measurements to your piece of tile. You will either have an L cut, a U cut, or an entire cutout that needs to be removed from the piece of tile.
Step 2
Place the piece of tile on the tray. Ensure the plunge arm of the saw is locked in at its lowest point so you can push the pieces on the tray through the blade. For the L cut, simply push the piece of tile into the blade and cut the two lines of the L out to remove the cutout.
Step 3
Cut the U-shaped section of the tile in a similar fashion. First, push the tile into the blade while it is resting in the tray so that you cut both sides of the U down to the bottom line that connects the two sides. Turn off the saw and raise the plunge arm. Turn the piece of tile over so that it rests on its face on the tray. Turn the saw on and push the blade down into the piece of tile to cut the bottom part of the U, which is actually straight, like half of a box. Remove the cut-out.
Step 4
Cut out hole cuts from the back side of the piece of tile. Mark any complete boxes within a tile on the back of the tile. Place the tile on the tray. Plunge cut all four of the sides from the back side. Push the blade down slowly so that you don't cut too far past the cut lines. For peace of mind, you can cut just shy of the actual box requirements and then tap the cutout on the corner of the saw tray so that it falls out of the piece.
Things You Will Need

Safety glasses
Plunge-cut tile wet saw
Tape measure
Grease pencil